With the all-new Tutor LMS Migration Tool, you can easily migrate from other LMS plugin to the fastest growing LMS plugin on the market. You don't need to worry about losing any information while transferring from your information. Everything is taken care of by the Tutor LMS Migration Tool.
Problems You May Face During Migration
If you are thinking of migrating from one WordPress Learning Management System to another without the proper process, you might face some tough situation. You might lose files, experience downtime during migration, 500 internal server error, SSL certificate issue, and more.
All of these problems can hinder in the way of a smooth transition from one LMS to another. We tried to solve these problems for our users with our newly released Tutor LMS Migration Tool.
Introducing Tutor LMS Migration Tool
The migration Tool was built from scratch to give it's users an effortless way to get their existing data from LearnPress to Tutor LMS with just one-click option.
The migration feature is not available inside the core plugin, as you need it only once. You can find it in the WordPress.org plugin directory. Search for Tutor LMS Migration Tool. Install and activate it to see the migration options.
There are two pre-requisite plugins you must have in your WordPress site-
Tutor LMS (Version 1.4.6 or later)
LearnPress (Version 3.2.6.4 or later)
After installing the plugin you will find a separate LearnPress Migration tab in the Tools section of Tutor LMS. From there you configure the migration process.
Navigate to Tutor LMS > Tools > LearnPress Migration. You will see the migration status, see which set of information can be migrated, and more.
Easy One-click Migration
This Tool provides a one-click to rule them all synopsis. You don't need to go through any complicated settings or waste your precious time mapping all the data that you want to import from LearnPress.
All the complicated process for migration is done behind the scene. The plugin will automatically set all the information to the right place in your new, improved LMS. So that you can get started with your new Tutor LMS without any hassle.
The whole process is so seamless that it will feel like you just upgraded to a better learning management system without trading off anything at all.
And if you want to migrate only a specific set of datasets like sales, reviews, courses, you can also separately select them too. Just checkmark the box and click on the Migrate Now button.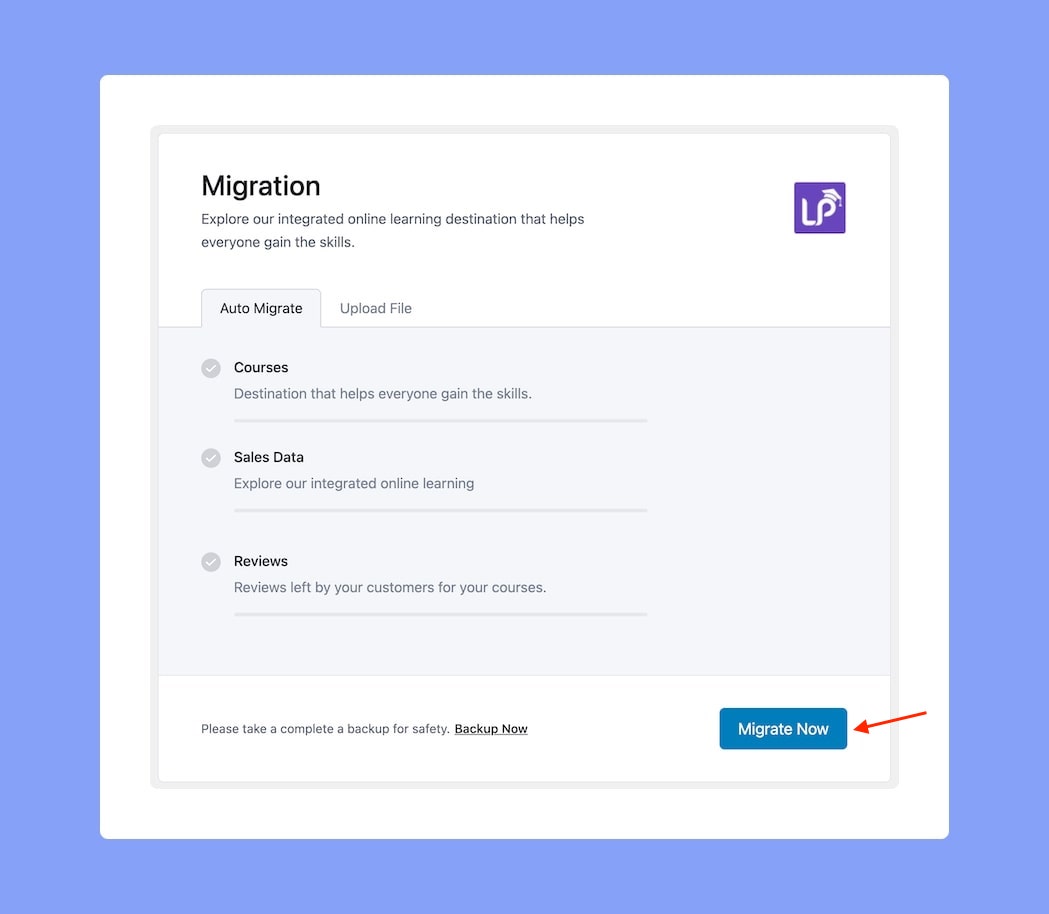 Get Started With Tutor LMS Migration Tool
If you want a detailed guide for the plugin, click here. Tutor LMS Migration Tool is completely free to get started with. You can install and activate the plugin from the WordPress.org plugin directory. Migrate to the fastest-growing LMS plugin on the market, Tutor LMS. Click on the button