Google analytics, search console, and page insights are crucial to check your site's traffic, know performance and page loading speed. They provide essential data for your site so that you can monitor your site and take measures to improve it. What if you get all these tools' stats in a single place? That's what Google Site Kit is going to do. Easy access to the insights and capabilities drives audience and revenue growth. Now website owners can access them in one place.
Site Kit is ideal for website owners who want easily digestible information about the audience and revenue performance, all in one place.
Site Kit gives you a dashboard that displays the site's performance with various Google tools, such as Search Console, Analytics, AdSense, and PageSpeed Insights.
What is Site Kit by Google?
Site Kit by Google is a free, open-source plugin that brings insights from essential Google products for WordPress sites to a single place.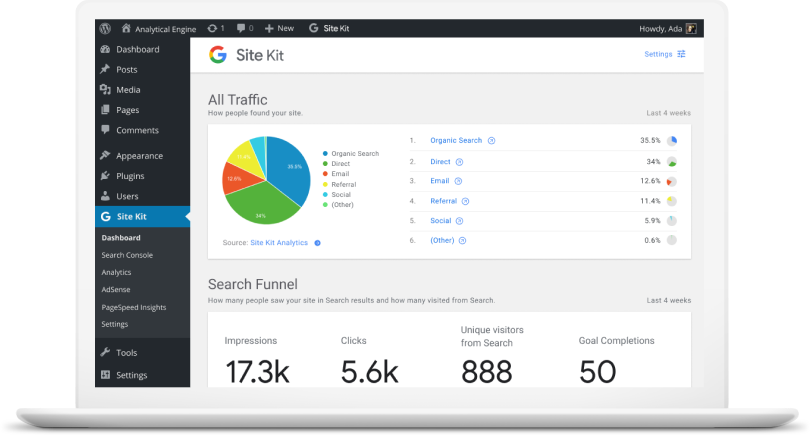 With Site Kit installed, WordPress users will be able to access unified insights and Google product capabilities on the WordPress admin panel. It also provides deep links to Google products for advanced reports & product configuration capabilities.
The plugin currently comes with 4 Google tools and products to help grow, optimize and monetize WordPress sites:
Search Console: Know how users discover your content on Google Search.
Analytics: Understand how users navigate your site.
AdSense: Set up AdSense and monitor your earnings.
PageSpeed Insights: Identify critical performance optimizations.
The Main Benefits of Site Kit
With actionable guidance & insights optimized for WordPress site, Site Kit provides up-to-date product and site recommendations by Google, Google products and UX leads have worked to make Site Kit both useful and easy to use.
Combined Stats for Posts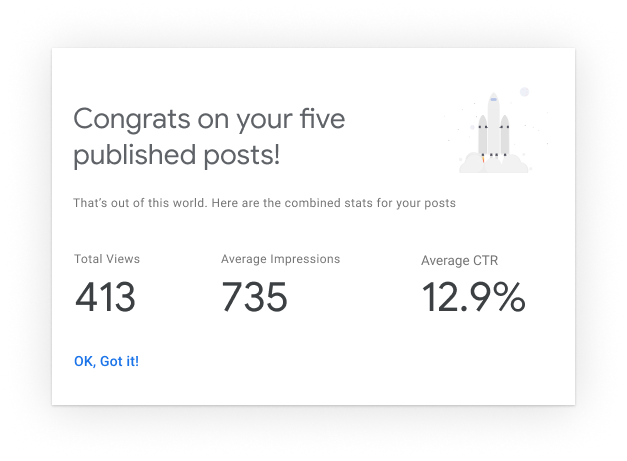 You no longer have to go away to check your site's total views, average impressions, and average Click Through Rate. With Site Kit by Google, they are right on your Dashboard.
Stat for Each Individual Page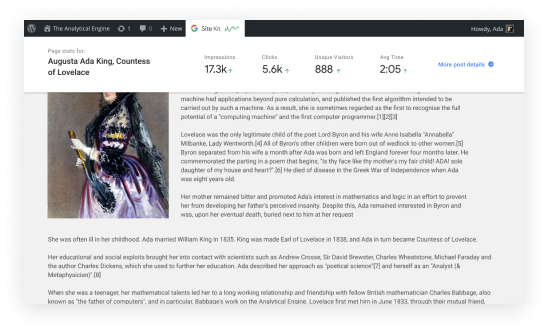 Alongside showing combined stats, Site Kit by Google lets you check each of your website pages individually. If you want to know how a particular page of your site is doing? Access the individual page stats in one click directly from the admin bar. It shows you the number of impressions, unique visitors, clicks, and average time spent on the page by the visitors.
The newly added features to the developer preview are given below.
Seamless site verification with Search Console.
Provisioning and configuration of Analytics, AdSense, Tag Manager and Optimize.
Simple aggregate and per-page reporting from Search Console, Analytics, and AdSense.
Site performance auditing and monitoring with PageSpeed Insights.
Insights derived from across the products you've connected and surface on your dashboard, help you make sense of the stats.
How to Use Site Kit on Staging Environments
Here's how you can start using Site Kit on your WordPress site.
Verify your production site in Search Console.
Note: If your production site is already verified, then you're good to go. Otherwise, you have to complete this step before you can go through the setup flow since the Site Kit can't place a verification token on the production site.
Install and activate the plugin.
Start the setup flow for Site Kit.
Create Client ID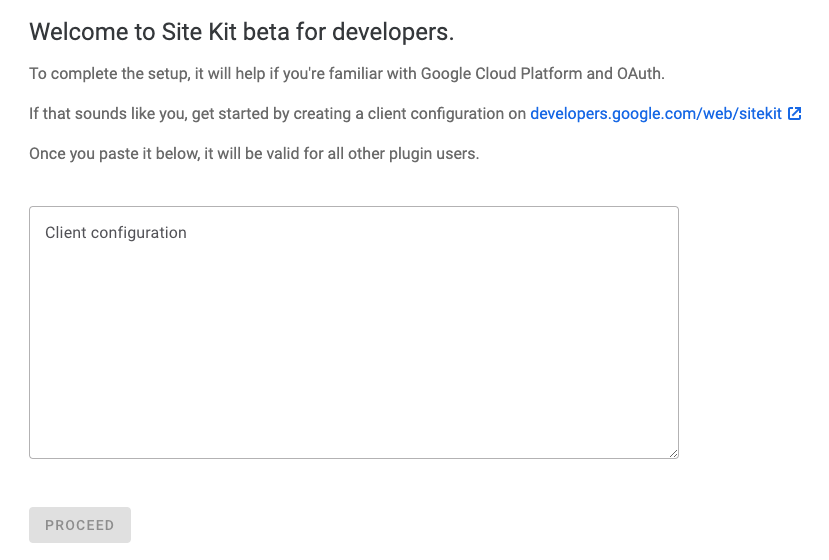 Get started by creating a client configuration. Once done paste the configuration code on the specific section and click on proceed.
Authenticate
At this stage, you have to connect your Google account with it. To authenticate sign in with your Google account.
Verify URL
Now you need to verify your site URL. Once done, your search console will be connected automatically. Now you are good to go.
Site Kit By Google is still in beta version. It is a developer preview. Prior to making the plugin generally available on wordpress.org and to all users, Google lets you test drive the plugin, test Site Kit compatibility with other plugins, and have implementation feedback & recommendations.