Staying in the safe side is always the best practice. If you own or manage a website, taking regular backups is crucial. A site can be hacked, a plugin may cause instability or any other odd thing might happen. Restoring a previously created backup can save you in that moment.
How to Take Backups?
Generating a website's backup is something like taking a copy of its necessary elements including user-uploaded files, database, and plugins. There are several ways to do this. Most of the shared (web) hosting plans offer cPanel where you can manage your site's server-side. cPanel is very popular and powerful which comes with complete backup and part-by-part restore features. But If you use VPS hosting or dedicated servers, there may not be a readily available cPanel dashboard.
Whichever control panel you have, you can create and restore WordPress site backups easily with plugins. Some of the popular titles are VaultPress, BackupBuddy, UpdraftPlus, XCloner etc. While the first two are premium only, you can use UpdraftPlus and XCloner for free. They also have premium plans, but the basic functionalities dont cost.
In this post, we will see how to backup and restore with UpdraftPlus. Probably we can see other plugins in future. Okay, at first install the plugin in your WP site. Go to your WordPress dashboard > Plugins > Add new. Search "UpdraftPlus", find it, install the plugin and activate. Now go to the Settings menu of your dashboard. There you will find UpdraftPlus Backups link. Click there to open the plugin.
On the plugin page, create a backup by hitting the Backup Now button. It will ask you what to include and where to store the backup files.
While taking a backup, the plugin will show the progress and give updates.
Once completed, you can view backed-up items in the Existing Backups section.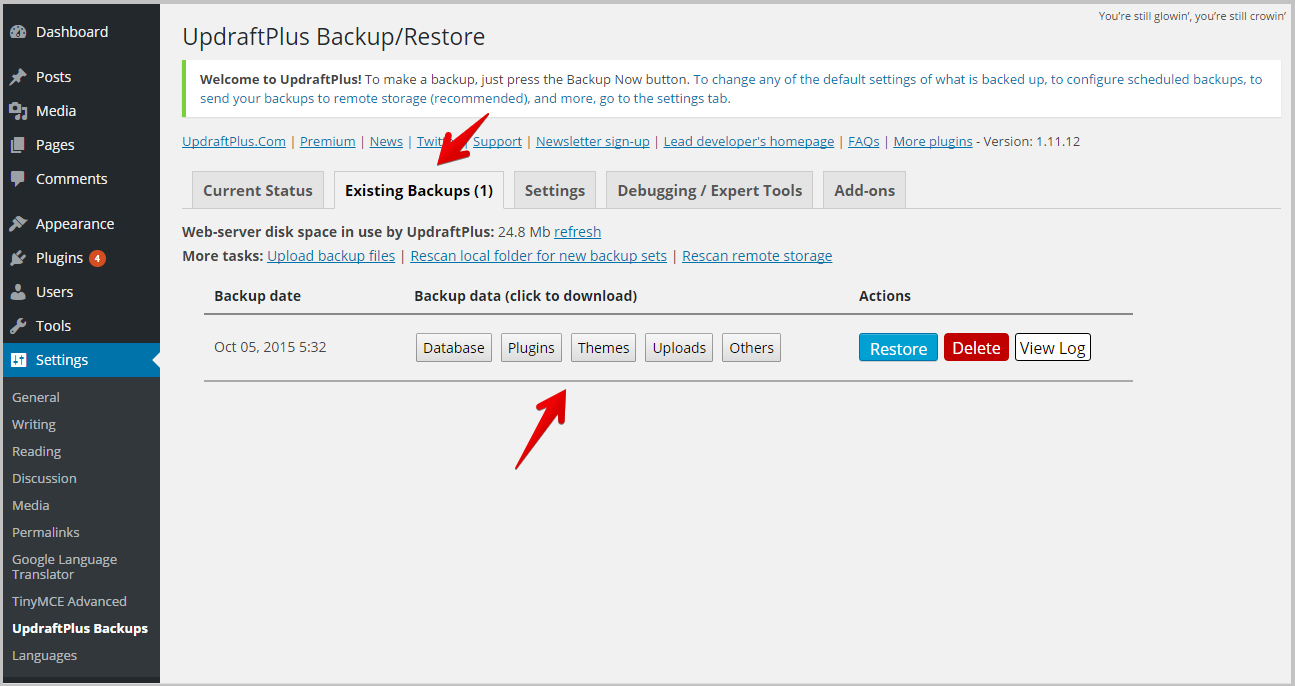 And yes, the plugin lets you choose backup contents, remote places, notifications, schedules etc.
How to Restore Backups?
I assume one hardly wants to restore a backup. But sometimes it becomes inevitable. You can easily restore your site to a prior setup using a plugin like UpdraftPlus. Since we've seen how to create a backup with UpdraftPlus little earlier, let's see how to restore with the same plugin.
To start the procedure, go to the plugin's Existing Backups section. Click the Restore button found beside a backup archive, select the contents to be restored and confirm the action according to on-screen instructions.
The system will show the process status.
After the restoration completes, you will see the log.
And that's it.
If you store the backup files in a remote place (other than the website server) such as Google Drive, Dropbox etc., you can restore them on a fresh WordPress installation even if the site's own server gets affected by a breach. There are some other ways to do it, (cPanel backup-restore, VPS image restoration etc.). Hopefully, we will discuss them in future.
Did you backup/restore a WordPress site ever? How was your experience?