Another big day arrives for WP Page Builder users. After bringing the Timeline Addon, about a few days ago, it's time for another exciting addition. We are releasing a brand new layout pack called Gym. It is dedicatedly designed for gym, fitness club, health & fitness training, and similar businesses.
The Gym layout pack comes with a gorgeous design. There are 6 pages inside this layout pack to kickstart your gym and fitness club business.
Who is This Layout Pack For?
As the name suggests WP Page Builder's new layout pack is built for fitness clubs, gyms, health, and fitness training centers, yoga institutes, wellness centers, or any kind of fitness center that wants to display fitness schedule and offer club memberships.
What's Inside Gym Layout Pack?
The Gym layout pack comes with some built-in pages ready to be imported on your websites. In those pages, the pack gives you way more than that. You can showcase classes, have schedules, display memberships, and many more.
Let's take a look at all the layout pages individually
The Gym home page offers a stunning hero section with a call-to-action button. It displays curated fitness articles, tabbed section, testimonials, and contact information at the bottom.
Display fitness training times and classes attractively to the visitors to inspire them to join your club. Showcase class information with duration, intensity, fitness level, and results.

Display gym photos in different albums. Showcase how people workout or gym equipment in your fitness center in different photos.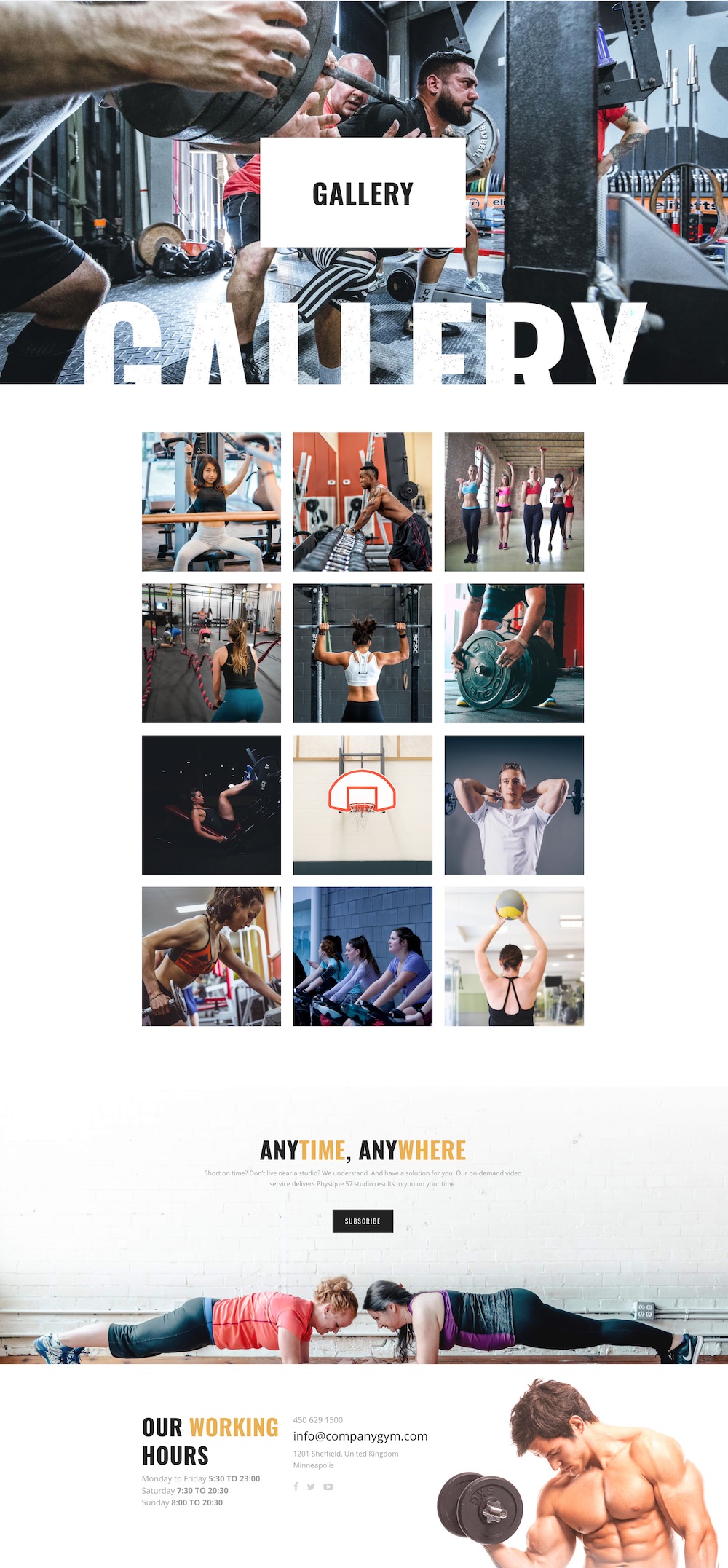 Enlist classes, training, fitness Bootcamps in schedules for people to know details and join them. Highlight a particular event to draw attention and have more people on board.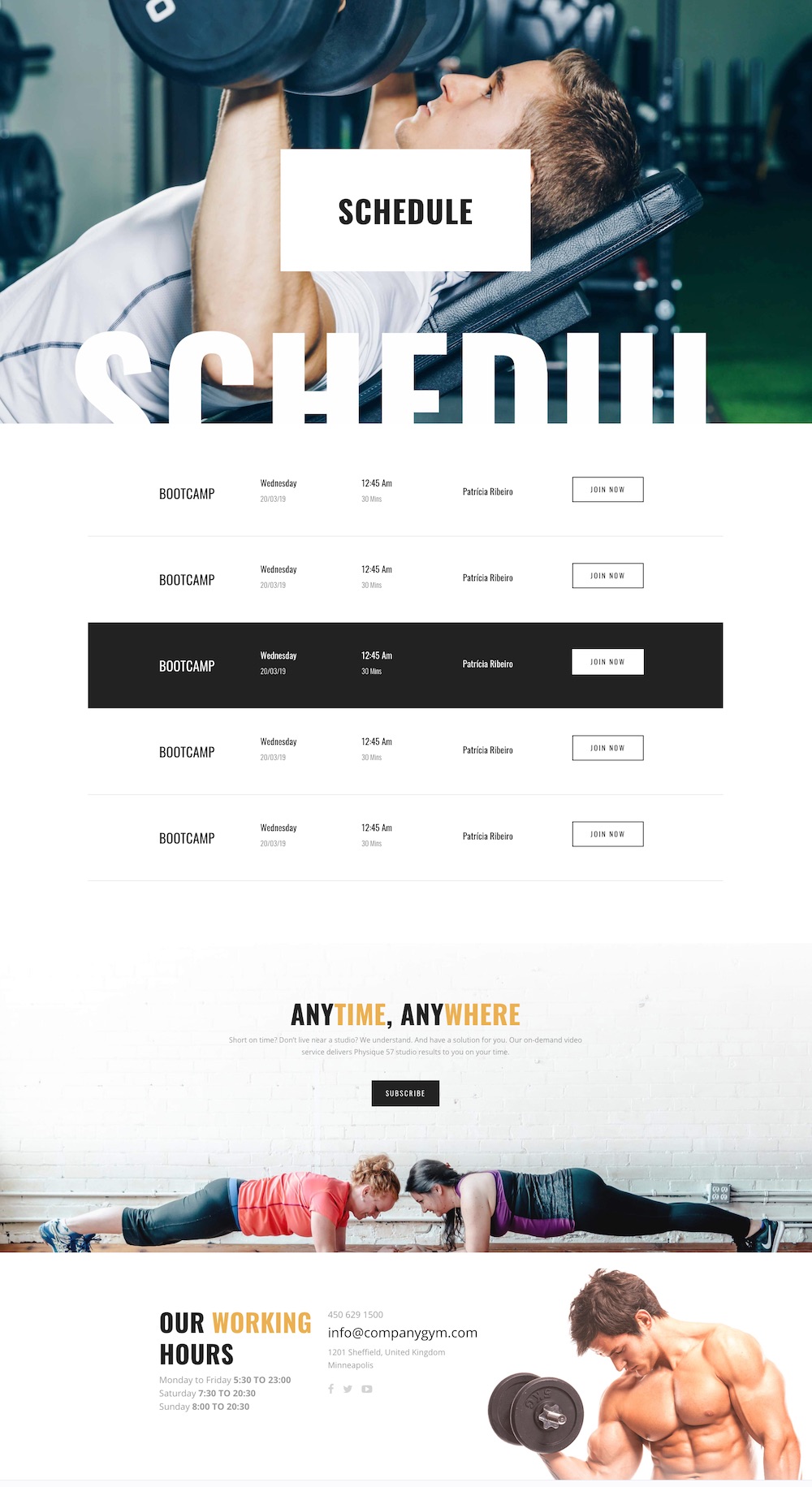 Showcase club membership with their types, benefits, prices, and a call-to-action button to confirm placement. You can also feature a particular membership plan. There's a testimonial section to showcase remarks, reviewer's visuals and more.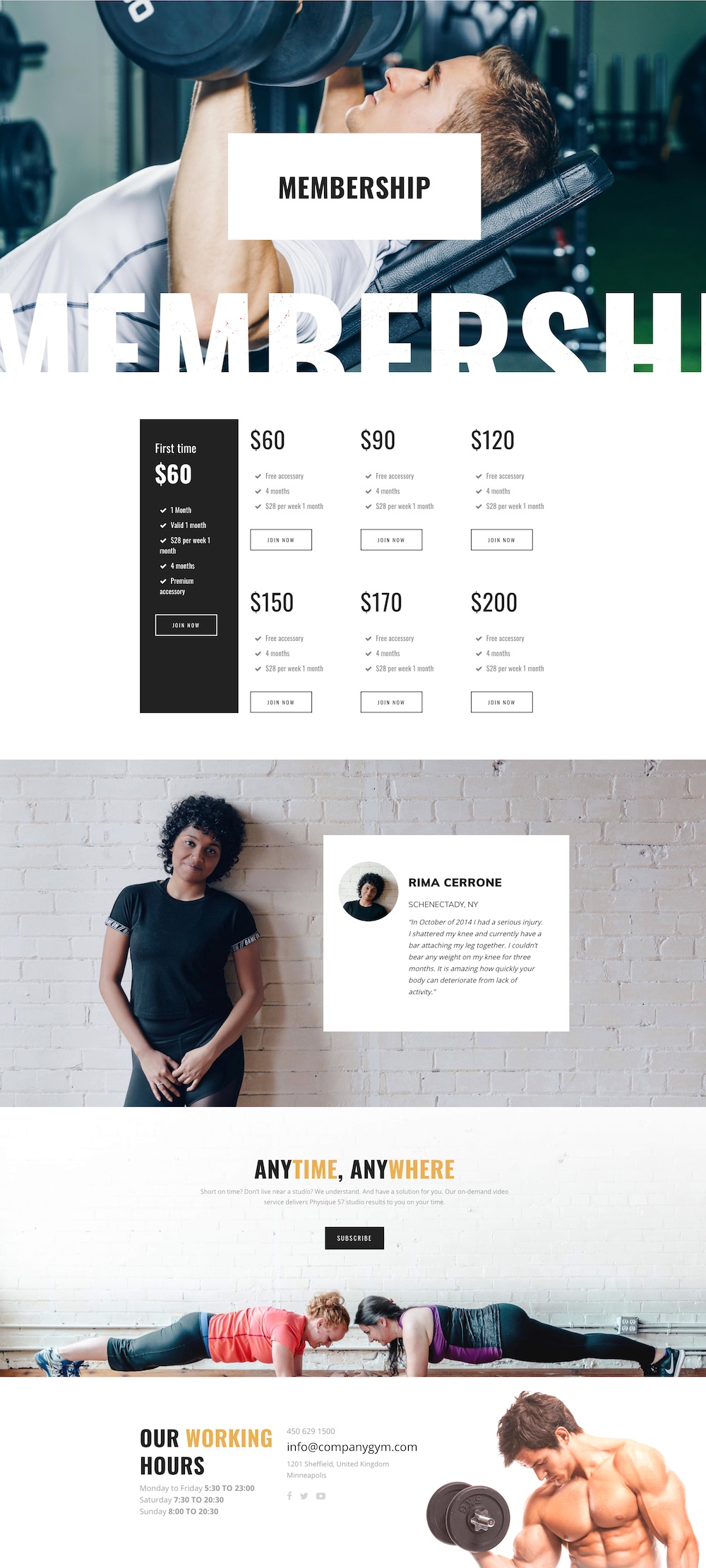 Display the impacts of the workout by displaying members' images and their successes. This is where you can showcase the best results to inspire potential members to join immediately.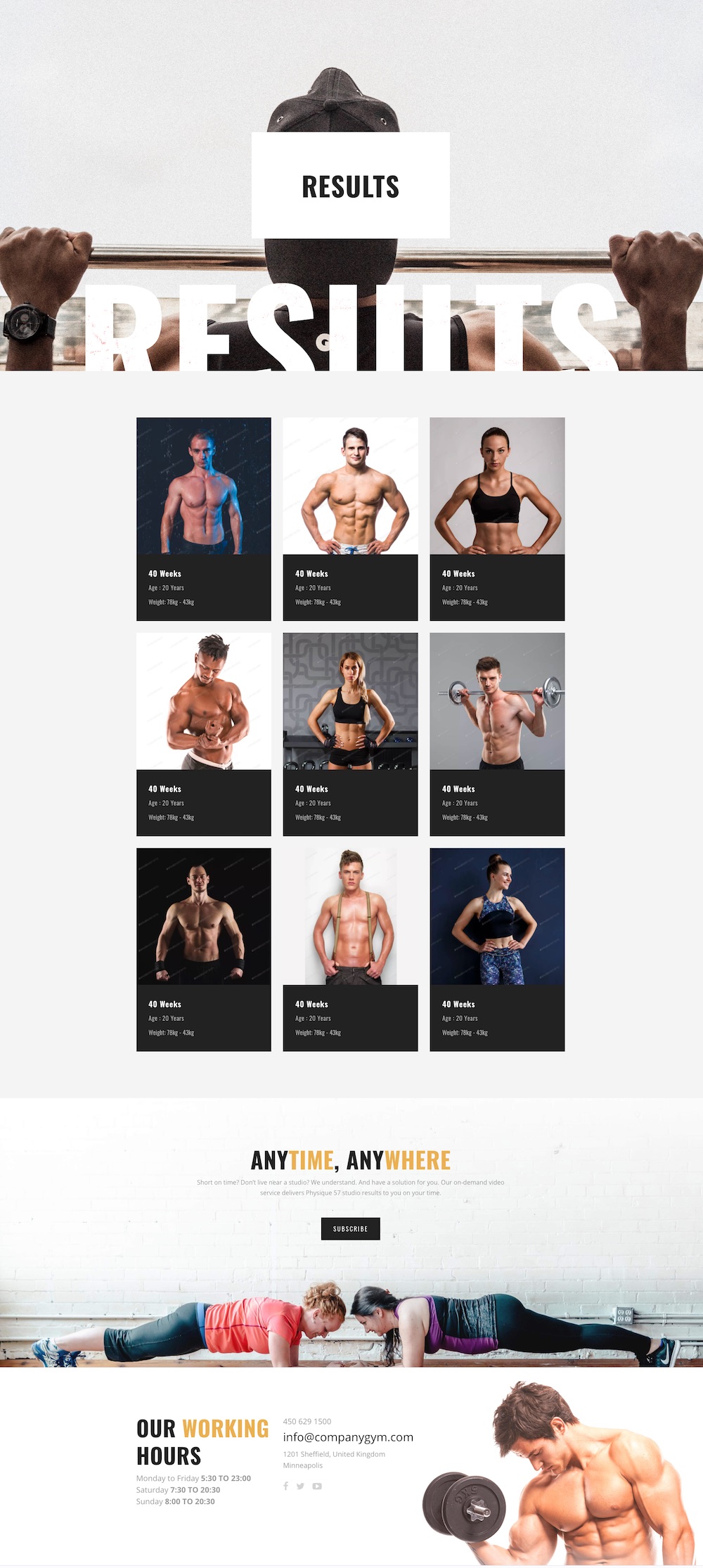 Despite showing results on the results page, you can describe results in detail. Showcase what you do to bring out such results, tell stories, and display everything visually.
Let interested people contact you on a nicely designed contact form. Showcase fitness club address in Google Map and other information to ensure smooth communication between you and potential members.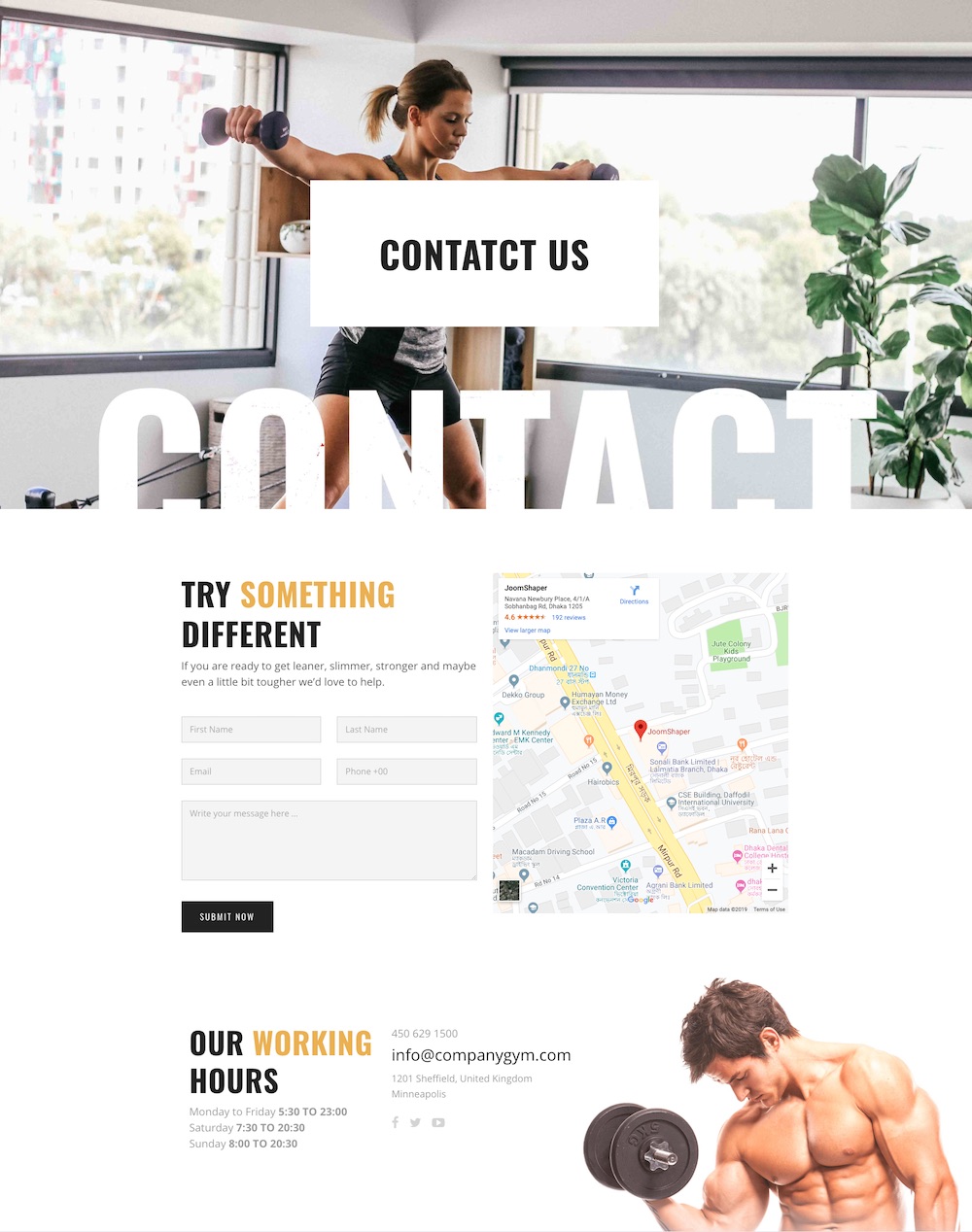 How to Access Gym Layout Pack
You can only get this stunning layout pack if you have WP Page Builder Pro. The Gym has already been added to the existing ones. Update the plugin to its latest version. Access Gym layout pack just like the way you access other WP Page Builder's layout packs. Create a page and edit it with WP Page Builder. Got to Layouts on left bar or in the middle of the page. Checkmark on Gym in the Categories on your left. Click on WPPB Gym then import the layout of your choice.
We are continuously upgrading WP Page Builder, In the days to come, we will bring more layout packs, addons, and many more exciting features to WP Page Builder Pro. If you haven't used your WP Page Builder Pro yet, it's time you upgrade.