WP Page Builder makes website creation super easy but we believe in being even better! Our team of relentless WordPress experts have come with yet another exciting update that you absolutely need to build your site. After knowing about the new updates, you will want to try this version out for sure!
Today we bring two new exciting addons, features, and some other fixes to improve your user experience majorly. This new update means we are one step closer to becoming the page builder you absolutely need to build your website.
Creating the ultimate page builder is an ongoing process and we thrive to do that every day. We take each feature and try to make the best of it which is why we are announcing updates to both our free page builder and pro versions of Page Builder.

What does this update bring for you?

WP Page Builder enables you to create a professional website with all modern features you can imagine. To support that mission, we now have a Price Listing addon and Table addon with next level customization.
We have also added a datetime field type and repeatable and inner repeatable type to enrich your website along with a CSS filter reset button. In addition, we have made some extensive fixes for the free version to make sure you face no issues when building your website.

Price List addon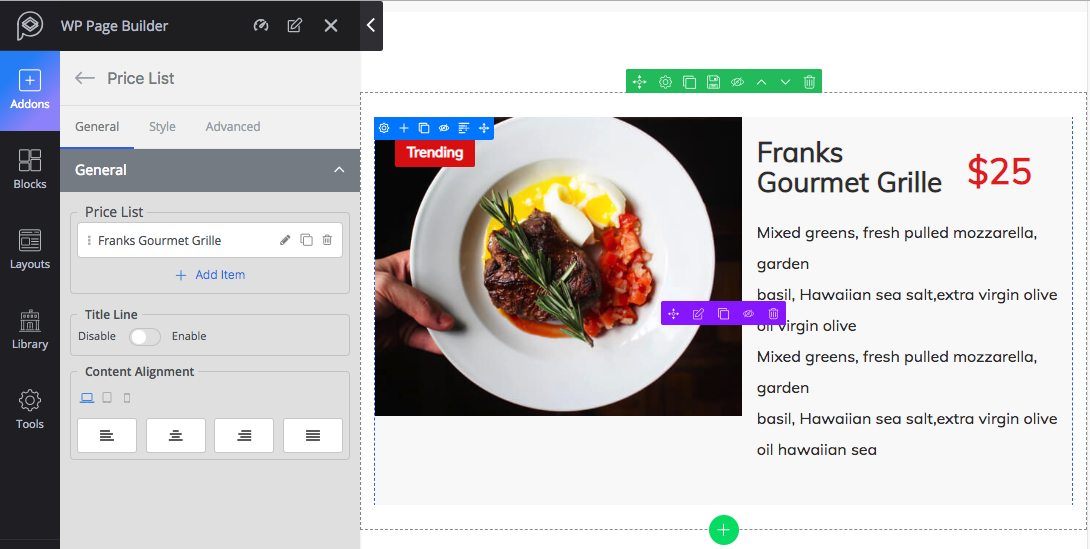 If you have a business website, this addon is a must for you! This addon will help you create a modern price list literally in seconds. It has various style options for each aspect of the pricing table. In addition, you can add discount prices, include URL, give descriptions for each item and so much more. Another amazing part is you can add images, numbers or icons to your pricing list!
The Price list addon comes with the pro WP Page Builder. So if you are a pro version user, all you have to do is update the plugin. You can just drag & drop the addon to your desired column and start styling!
Price List Addon Live Preview


Table Addon

The table addon is another awesome addon that we are releasing for you in the Pro version. You can now use this drag & drop addon and even add as many variety of tables as you wish. In addition, the table addon comes with the ability to customize each aspect of it.
You can even add as many table items as you want to a predefined table and style it as per your preference. The head and body of the table can both be styled separately and you can change the background color of each table. Additionally, all the advanced customization options that are global for all our addons are here as well.
Other Improvements and Fixes
One of the major additions to our new update is the new datetime field type for you to use on your website. You can now easily set the time and date without any complexities.

We have also added the repeatable and inner repeatable type for you. If you are planning to use third party addons, this is going to be majorly useful for you as you .

Another amazing part of this update is we fixed most of the few issues that you were facing. The box shadow setting is now fixed. You can add box shadow to the inner column without the parent column box shadow being affected.
Finally, we always try to make sure that WP Page Builder is as user friendly as possible. So we added the new reset CSS filter button. You can reset your CSS in just a single click. We also removed the Background2 field type due to lack of user demand.
WP Page Builder v1.0.4 and v.1.0.2 changelogs:
New: Price List Addon in Pro version
New: Table Addon in Pro version
New: Repeatable and inner repeatable support added
New: Field type datetime added
Fix: Box shadow issue
Fix: CSS filter reset button added
Fix: Background2 fieldtype removed
Others: Minor bug fixes

All of our updates are released with keeping your website needs in mind. Our aim to keep adding new features of the best quality to ensure that you will never feel that your website is incomplete. If you have any suggestions for more addons, please feel free to share and we will try our best to bring them in the future!
Get WP Page Builder Live Preview Try Demo