WordPress 5.3, the newest version of the world's most popular CMS has just been released. This version is named after Rahsaan Roland Kirk, or simply "Kirk", the American jazz multi-instrumentalist. It is packed with tons of new features to make WordPress cleaner, much more user-friendly & versatile. This update brings huge changes to Gutenberg's block editor. Moreover, it brings changes to the admin panel, new themes, as well as Quality-of-life improvements. Let's take a look at some of the major updates that we think will positively affect your experience using WordPress.
New Default Theme
A new built-in theme WordPress called Twenty Twenty ships with the newest version of WordPress 5.3. This theme also comes with a new Font, Inter, with varying widths. Check an official mockup of the Twenty Twenty theme below.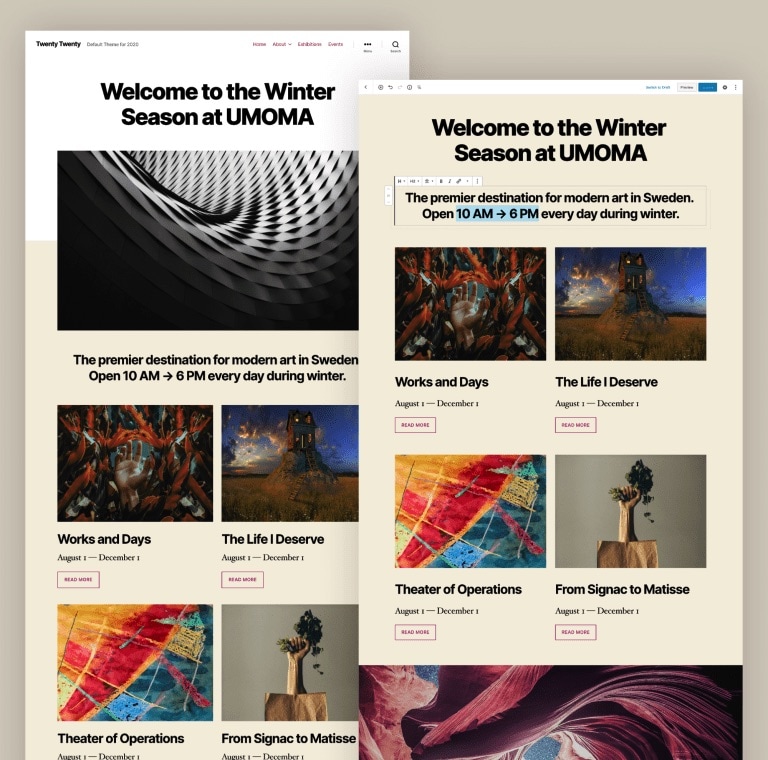 New Block: Group
A new block called Group has been added. This can be used to bunch together multiple blocks inside the group block, which you can then use as reusable blocks. You can also add a specific color to the entire group's background, while also adding a cover as a background. Also, selecting multiple pre-existing blocks will prompt a "transform to group" option which can generate a new group block. Here is a short clip of how grouping works, taken from WordPress official source.
Core Improvements
This update also focuses on administrative Quality-of-Life improvements with some new under the hood updates that might not even be apparent to you from the get-go but will radically improve your experience in subtle ways.
Loading Time Improved
A significant improvement in overall loading performance has been observed thanks to code optimization. A test with 1000 blocks/36000 words shows an improvement of around 1 second of loading time. While the size of this test-case does not represent the average use case scenario, this is good for spotting an upgrade in site performance.
Admin UI Improvements
If one of your websites fails, WordPress will send you an email to the admin email address. After the update, these emails will contain some basic debugging info by default. The default email will contain:
WordPress version
PHP version
Website's current theme and version
Name and version number of the plugin causing the issue
Users can choose to include more debugging information using the recovery_email_debug_info filter.
Image Upload Improvements
Uploading from mobile devices and digital cameras has also gotten much easier. Bigger image uploads are finally supported and now you can upload directly from your mobile device. You will now also be able to resume uploads as WordPress will now automatically save all uploading images. Disrupting the upload process will no more break the uploading system. WordPress will also read into the EXIF data of the image file and rotate it accordingly.
Block Appender
An empty group or column block will show a grey block appender if it is left empty. This creates a cleaner UI while making the plus sign more visible.
Block Navigation
You can now navigate between blocks using the Tab button or the arrow keys. To exit or enter the navigation mode, simply press the Esc or Enter button. This comes as a major QoL improvement for all users, especially for disabled users using screen readers.
Switching block positions with the arrow keys will also render a movement animation to make layout new changes more apparent.
Block Preview Added
Up until the 5.2 builds of WordPress, there was no way of telling what a block does before adding it. As a result, you would not know what you were getting when adding a block. With 5.3, if you hover over a block on the Add Block menu, you will get a small preview of the block being added.
Site Health Report
Back in WordPress 5.2, a percentage grade was shown on top of the Site Health status page. This was used to represent the overall health of the website. Users thought this feature was a great addition, but the ambiguous percentage grade caused concern amongst some. Therefore new the indicators "Should be improved" and "Good" now to act as reminders instead of grades.
Improved Blocks
As stated above, this update gives major emphasis on existing blocks, making them much more usable, customizable, and flexible. Here are a few highlights that we are very excited about.
Cover
The Cover block has now been drastically overhauled to create a really amazing feature out of the box. You can now add multiple blocks on top of a cover image and essentially create a section that immediately grabs the user's eye. On top of the image, you can add a Gradient and Solid color overlay to separate the background and content.
Gallery
Images inside the gallery block can now be reordered from outside the media library screen. Simply press the left and right arrows on top of each image.
Latest Posts
The Latest Post block now comes with new customization options. There are options to show either an Excerpt of the post or the full post. If the excerpt option is selected you can control the length in characters.
Table
Table block now has a Text Alignment option for entries inside the cells.
Column Width
A column width slider has been added to the column block. You can now place a custom percentage width to each item in the block.
If you have not updated to the newest version yet, it should be waiting for you on your WordPress dashboard. Always take a backup of your entire site before updating to a new version and be sure to update to the latest PHP version. For a more in-depth changelog, you can visit the WordPress website. Also, share your experience with us via comments!