You loved vertical mega menu and advanced feature box that we introduced in the very first release of WP Mega Menu Pro. Today, we are here to surprise you with another update offering a bunch of new exciting features.
As a part of our promise to bring more new features with robust functionalities to your favorite menu builder, we bring you WP Mega Menu Pro 1.2.4. With this latest version, get stylish Call To Action buttons, gradient background option and place your logo at the center of your menu items. It also fixes several known bugs and improves the overall performance.
What's new in WP Mega Menu Pro 1.2.4?
As mentioned above, the new version brings the following:
Logo centering option
CTA button in the menu
Gradient background
Now, let's dig deep into the newly introduced features.
Logo centering option

Placing logo on the menu bar is one of the most notable features of WP Mega Menu. You can not only just place the logo but also apply some customizations to look it better. In this update, we bring logo centering option. That means, now you can place your brand logo right in the middle of your menu items.
We have noticed some WP Mega Menu users are fascinated about having their logo at the center and they continue asking for it. So, want to go beyond the conventional way? Place your brand logo on any menu item.
By default, the brand logo is not centered. You have to set it up. Considering the different sizes of the items you may have on the menu, WP Mega Menu Pro enables you to turn any menu item into a brand logo. You can either have text as the logo or upload a graphic logo of your choice.
Call To Action button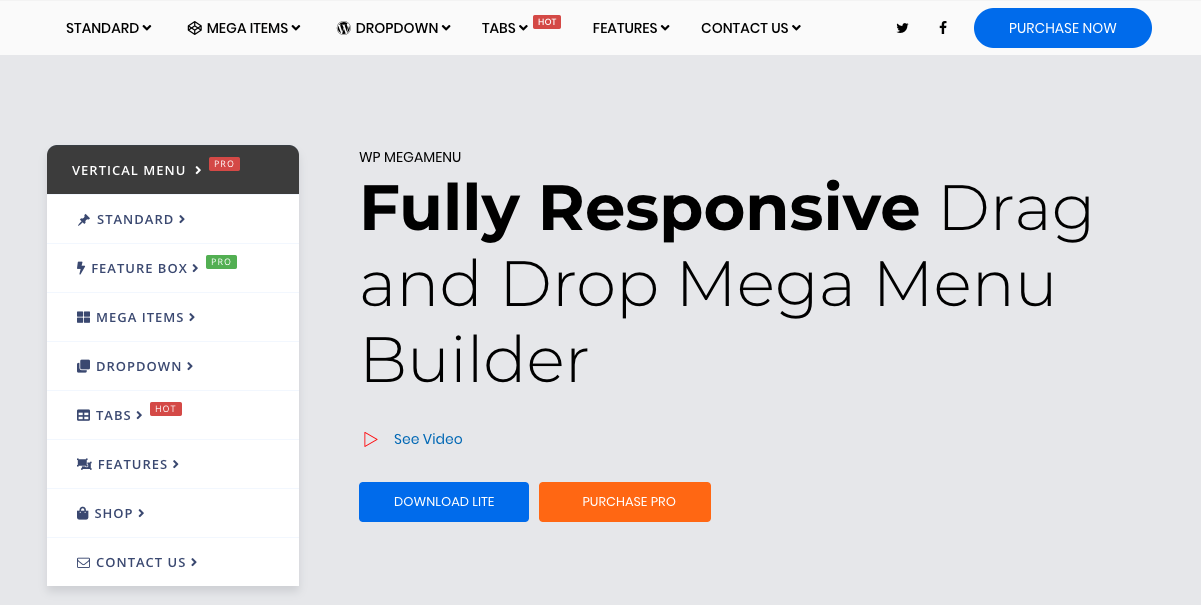 Action texts like Login, Create an account, Register, Try now, and Get started do not fit on the menu as merely links. It's time you have Call To Action buttons on your menu. Alongside having social icons, a CTA button will add more value and perform the required action.
If you want your website visitors to go to a page and perform a particular action, you must need a CTA button on the menu. Now you have that with our updated WP Mega Menu Pro.
Gradient menu background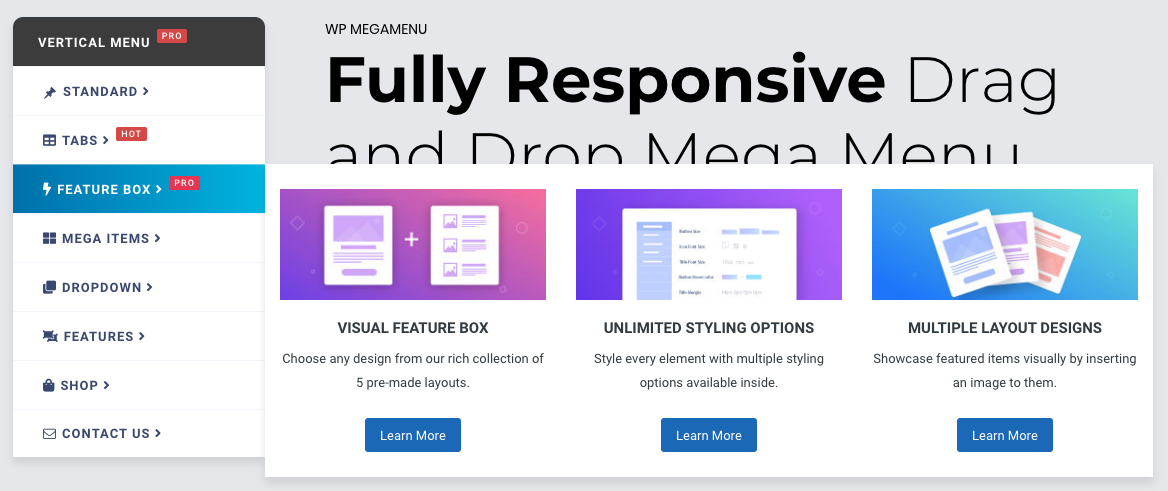 Menu styling system gets a new option. Presenting colorful menus is now a possibility with gradient menu background option. Instead of picking a single color for menu background, there are now 2 color picking options to set a gradient background.
There's also a gradient angle option to determine at what degree the gradient will take effect. You can choose the gradient angle value between -360 degree to 360 degree.
Other improvements and fixes
Apart from these new features, the updated WP Mega Menu plugin gets several known bug-fixes and improvements. Let's check the full changelog below.
WP Mega Menu 1.2.4 changelog:
New: Logo centering option (Pro)
New: Call To Action button (Pro)
New: Gradient background option (Pro)
Fix: Stretch row left offset issue
Fix: Stretch row border issue
Fix: Mega menu drag & drop saving issue
Fix: Sticky menu issue
Note: WP Mega Menu Pro requires its free version to function. Make sure that you have installed the WP Mega Menu free version before installing the Pro.
Happy? Yes, you should be. The newly introduced features will benefit those who want their website menus to look stylish and different from the conventional ones. But that's not all. We will surely come up with more new features and improvements in future. Stay with us and keep building beautiful mega menus. Good luck!