Greetings, fundraising platform managers! It's no secret that keeping your website theme updated is the key to keep up with the latest web design trends. That's why, at Themeum, we always ensure our themes are up-to-date with the latest standards, WordPress features and security updates. And today, we are more than delighted to inform you that one of your favorite crowdfunding themes "Backer" is getting updated!
With today's update, we are pushing the version number to 1.1.3 and making it even better than before. It is being updated with many new customization features, compatibility with WordPress 5.5.1, along with several fixes & other improvements.
Let's take a look at what you will get with the latest Backer v1.1.3 release:
New: Crowdfunding category settings now include enable/disable option for campaign category, campaign location, campaign description, and campaign author.
New: Campaign options in customization settings now include left thumbnail toggle button, option to set custom text for donate & reward buttons.
New: Compatibility with WordPress 5.5.1 update.
Fix: UI issue regarding the login popup's close button.
Fix: UI issue for Elementor-built slider on the homepage.
4 New Customization Options in Crowdfunding Category Settings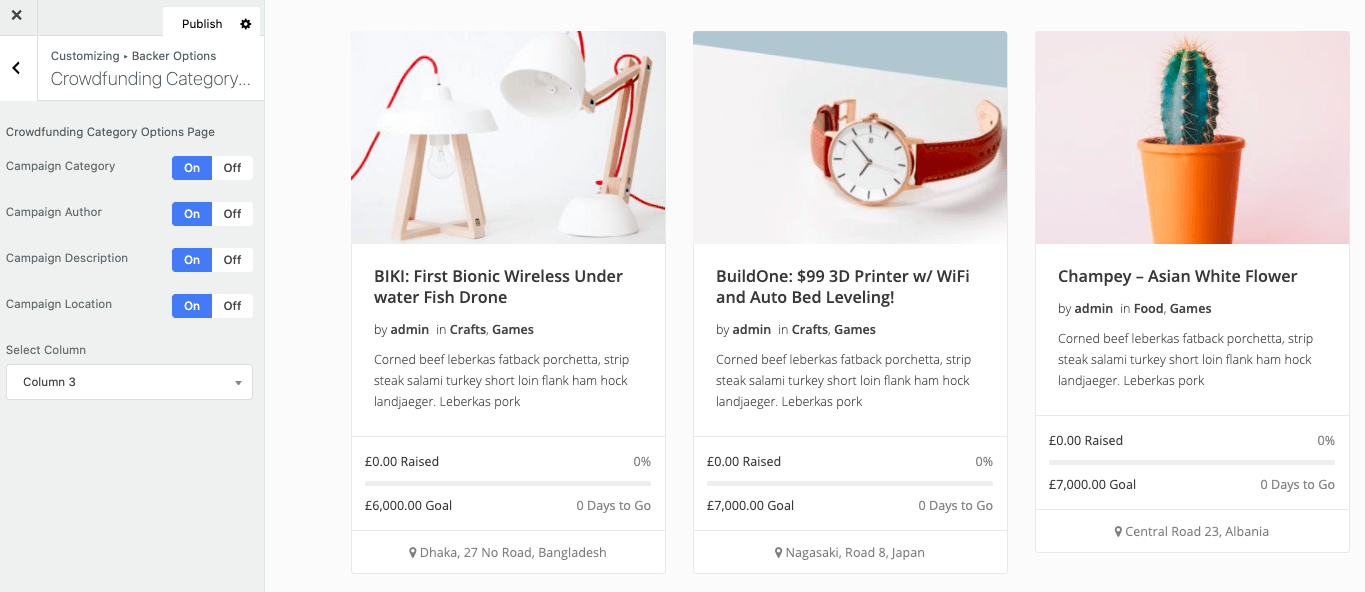 With Backer v1.1.3, we are introducing the options to enable or disable the following stuff of the Crowdfunding Category page.
Crowdfunding Category: Shows the category of the crowdfunding campaign.
Crowdfunding Location: Displays the location where the crowdfunding campaign is originating from.
Crowdfunding Description: This shows a short description of what the campaign represents.
Crowdfunding Author: Views the campaign author's name in the campaign information under the thumbnail image.
See the documentation for all crowdfunding category settings to find more details.
3 New Customizations in Campaign Options Settings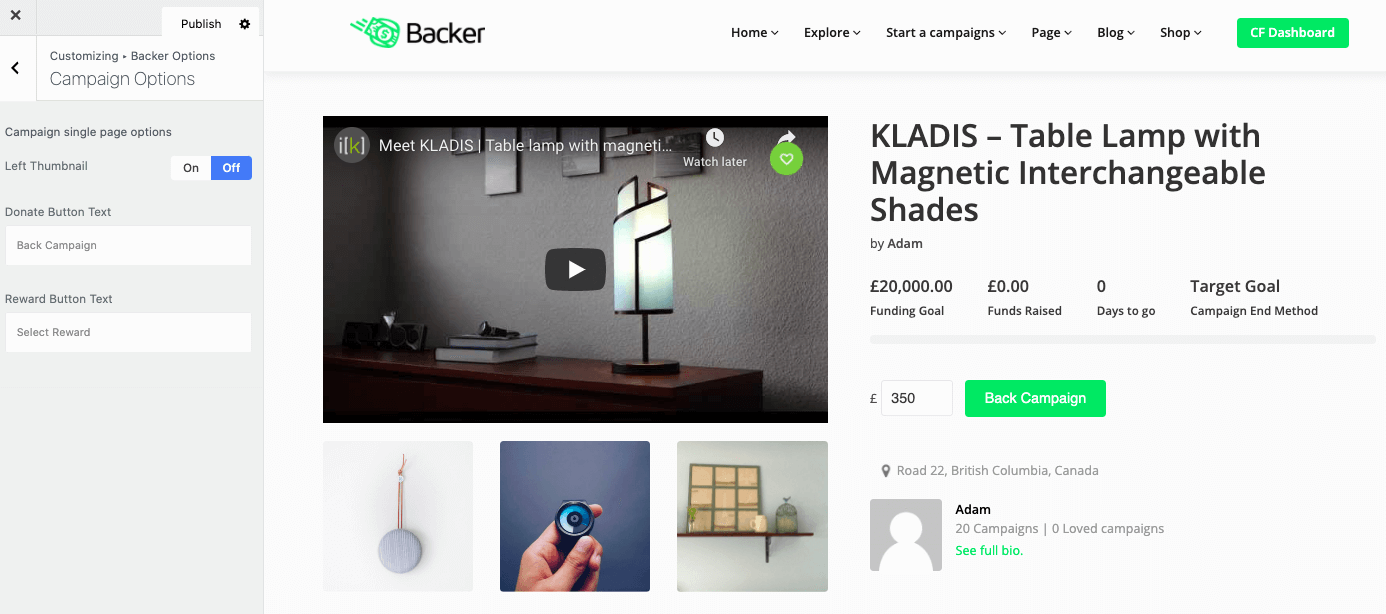 We are also excited to bring 3 new customization features to the Campaign Options section in Appearance settings.
From now on, you will be able to enable or disable and set the following options on the single campaign page.
Left Thumbnail: Toggle on/off to set the thumbnail image of the campaign to the left side.
Donate Button Text: Set the text which will show up inside the Donate button. This button is used to add donations to a specific campaign.
Reward Button Text: This button helps the campaign backer select the reward they want to receive after they pledge for a campaign.
You can take a look at the documentation to know about all available customization options.
Miscellaneous Improvements
Apart from the above mentions, we have also added much-needed improvements and fixes to your loved crowdfunding theme.
New: Compatibility with WordPress 5.5.1 update.
Fix: UI issue regarding the login popup's close button.
Fix: UI issue for Elementor-built slider on the homepage.
Update Your Backer Theme Today
To get all the above-mentioned benefits, update to the latest version of Backer today!
To avoid any complication, please update your Backer Core plugin first, and then the Backer theme. If you have any other queries, feel free to reach out to us at any time. We release updates for our products regularly, so keep an eye on our blog to stay updated.