Hosting has become a key element in running an online business smoothly and profitable. Not long ago having decent shared hosting used to do the job just fine but that has changed in recent times. This change was brought by the latest web technology and growing competition among various businesses. In order to stay at the top and have an edge on your competitor, one must go for the best when it comes to hosting.
Being in the WordPress business for a long period of time, we can help you choose the fastest WordPress hosting for your business and for that reason we decided to review managed cloud hosting Cloudways.
Before we dig deep and explore the Cloudways platform; let's look at the official WordPress requirements which will help us in setting the standard at which we should be deciding on our WordPress hosting.
As per the requirements, WordPress requires the following:
PHP version 7.2 or greater
MySQL version 5.6 or greater OR MariaDB version 10.0 or greater
HTTPS support
Why Speed Matters?
Fast loading sites are liked by Google and it's easier to rank them as compared to sloppy slow loading sites. Although there are many parameters involved in speeding up a WordPress site but hosting plays an important part in website performance. Speed affects the conversion rate of a website, when slow, it also has a negative impact on user experience, and users tends to abandon the website without even going through the whole content.
Now that we have established that speedy website is what everyone likes, let's go ahead and see how Cloudways is a fast WordPress hosting and how it can help you in achieving this.
Cloud Infrastructures
One of the highlighted features of Cloudways is the provider selection it offers to its customers. You can choose from five top cloud hosting providers while staying on Cloudways platform as per their requirements. Cloudways offers the following providers under one roof:
Amazon
Google Cloud Platform
Vultr
DigitalOcean
Linode

Customers can sign up for anyone or multiple providers using the same Cloudways platform. It makes everything more organized in case of multiple websites. Customers do not need to login into multiple dashboards to manage their websites.
These providers offer different services and plans which will be discussed in detail later in this article.
Global Data Centers
Data centers are the physical locations where servers exist. Since Cloudways offers web hosting through five different providers, its list of data centers is also long. With Cloudways you have the option of choosing from more than 60+ data centers across the globe!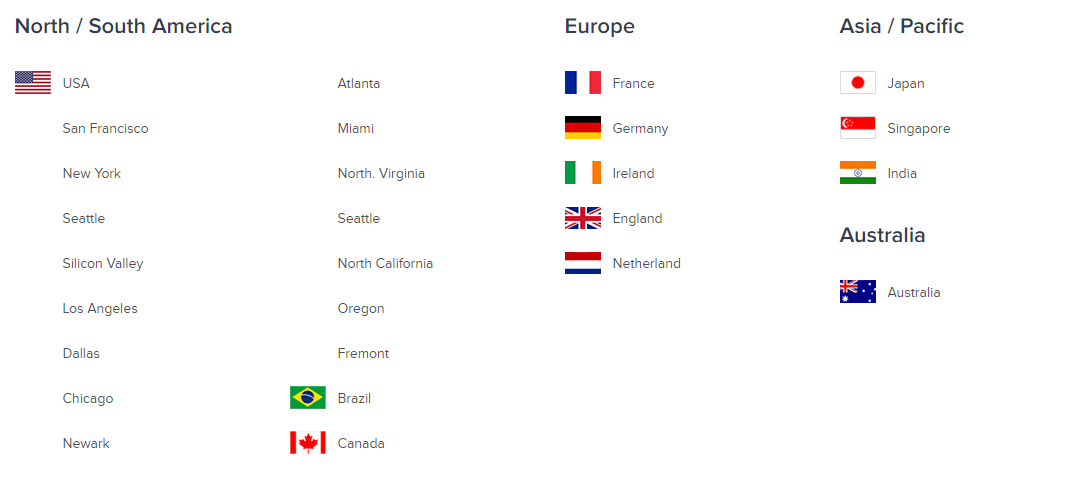 These data centers are present in all the major cities and prime locations to provide uninterrupted services with minimum latency to the end user. Customers can choose the data center closest to their targeted market.
If your current hosting provider does not offer data center closest to your targeted market then you will have a hard time in delivering the website content fast unless you are using CDN service. Having more options is always better as lesser the distance from hosting server is faster the response time will be.
Optimized Stack
At the beginning of this article, we briefly examined the official WordPress requirements to run a WordPress site smoothly. Let's see how well is the Cloudways stack equipped to cater to these requirements.
According to their website, Cloudways uses the following technology to build its stack.
PHP 7.x
Cloudways uses PHP 7 and it can be upgraded to 7.2. PHP 7 is stable and faster than its predecessors and is also recommended by WordPress official. Performance comparison of PHP 7 with older versions shows a decline in performance due to the fact that they lack improvements and may have compatibility issues with later versions of WordPress and its themes and plugins.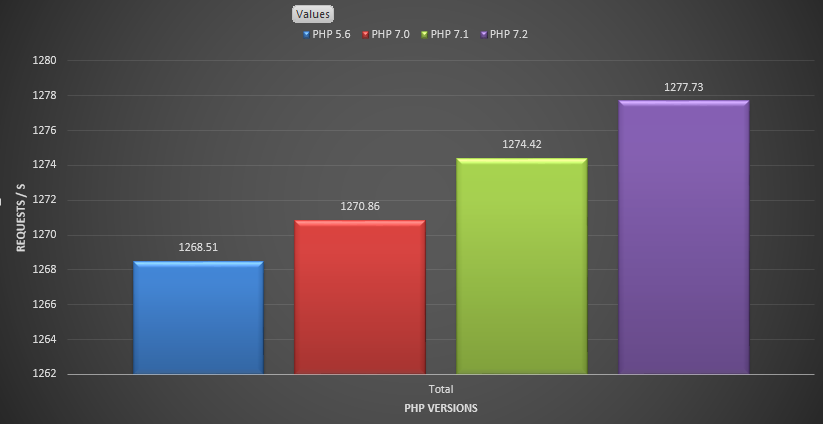 The graph above shows the performance comparison of four PHP versions. PHP 7.2 is the highest performing as compared to 7.0 and 5.6.
Apache
For web server Cloudways uses Apache server. Apache is a widely used web server for php based applications such as WordPress.
Nginx
Modern web tool Nginx is a super fast web server. It is capable of handling far more requests and respond to them quicker. Nginx is used alongside with Apache for enhanced server performance and ultimately speeding up the WordPress site.
MySQL/MariaDB
For the database, Cloudways users can use both MySQL and MariaDB depending on their application requirements. Cloudways support various versions of MySQL (5.5, 5.6 and 5.7) and version 10 for MariaDB.
Latest versions of both MySQL and MariaDB offer improved performance and faster query handling which reduces the overall time of handling requests. Cloudways users can easily switch to any of these flavors using their server dashboard.
PHP-FPM
Another tool for the modern web. This is mainly used for PHP caching and boosting the speed of web server. A useful feature for busier sites.
Advanced Caching Mechanism
Cloudways uses advanced caching mechanism and for that, it incorporated Varnish which is used for reverse proxying, Redis for caching datasets and Memcached for database and API calls.
Redis: Redis is a dataset server and is used for handling high-level data types such as strings, hashes, lists, and sets. It is capable of handling a high volume of read and write statements.
Varnish: Varnish is a reverse proxy caching and it's said to boost website speed to dramatically. Varnish is popularly used and Cloudways users get it pre-loaded with their server. They can also define custom rules for varnish depending on their application requirements.
Memcached: On an average a WordPress site can make a lot of API calls and that's where Memcached comes in. This reduces the calls made to API by caching data in RAM.
Content Delivery Network
WordPress CDN is used to deliver static content faster to the end users and irrespective of user's location data is delivered with minimum latency. These networks are spread all over the world and keep a copy of your website which is delivered from the nearest location to the user.
Cloudways users can enable Cloudways CDN in just one click for their WordPress website.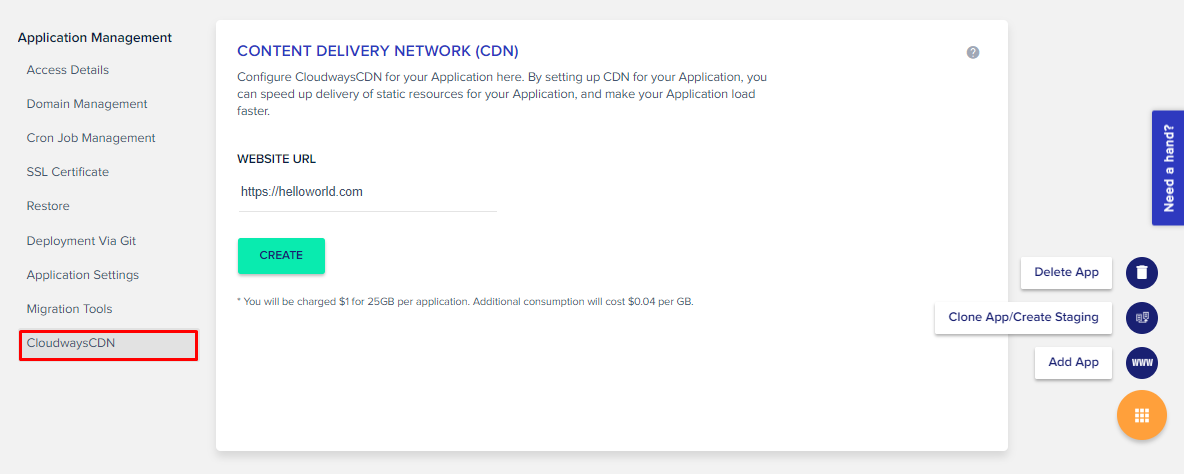 One of our recommendations is Kinsta, If you're looking for an all-in-one managed WordPress hosting as a service, check out Kinsta. It is one of the best in class when it comes to reliability.
Kinsta knows thriving businesses need extra fast websites so they've built their infrastructure on the fastest options on the market. Kinsta leverages Google's premium-tier network, C2 machines, and 29 WordPress-optimized global data centers to maximize the speed, security, and performance of every customer site. On top of that, each site on their platform has its own container with all resources allocated individually.
Kinsta supports the latest WP and PHP and MariaDB versions. Customers are able to choose their own stack with PHP 7.4, 8.0, and 8.1 available in the MyKinsta dashboard. They are using Nginx webservers and MySQL database.
Included for free in each plan is an enterprise-level Cloudflare integration. With Cloudflare operating one of the largest CDN networks, users have access to over 200 PoPs in over 100 countries. Kinsta also handles caching for all clients; utilizing four types of caching including bytecode, object, CDN, and page caching.
Lastly, Kinsta offers a custom-built site management dashboard (MyKinsta) and a free local WordPress development tool (DevKinsta).
Learn more about Kinsta
Final Thoughts!
In the article, we got to know which elements are necessary for fast WordPress hosting levels for fast WordPress sites and which cloud hosting has it all. Cloudways proved to be one of the advanced managed cloud hosting providers which uses a powerful stack to provide speed and performance to WordPress sites hosted on its platform. Alternatively, you can go for Kinsta if you are looking for an all-in-one managed WordPress hosting.
Also, we've partnered with Cloudways to make hosting eLearning sites more interesting. You can now host your eLearning site on Cloudways on 1-click.