Build your own profitable eLearning Education Business in less than one day using Themeum Varsita package (theme & LMS plugin) based on popular CMS WordPress 4.x. Use this theme to redesign old university/school website or build completely new. The future of the learning industry is powered by eLearning. As a matter of fact, learners and companies are turning to e-Learning courses and online training events achieve their personal and professional goals.
 LMS market

prediction

statistic for 2015 year
The global eLearning Market is expected to reach $107 billion by 2015.
The LMS market is expected to worth approximately $4 billion in 2015 and over $7 billion in next 3 years.
74% of companies currently use Learning management systems (LMS), this number will increase in next years.
44% of companies intent to purchase online learning tools and systems.
Large companies are the main purchasers of eLearning products and services.  They make up roughly 30% of all e-Learning buyers.
What it means for you? D

o not

waste your chance!
Use Themeum LMS solution to earn money and/or improve your school site.
No matter what industry you're in, your company can't survive without technology. For all small and bigger companies we've created a Themeum LMS  – a highly powerful WP plugin that can help you add/use a lot of great e-learning features and very useful functionality to your current website or new project. Supports unlimited number of courses, lessons, students, events etc. Use the power and easiness of LMS to create a learning site about any subject. LMS plugin can be seen as an online course workspace to store course files and build learning activities. It is an easy way for staff and students to use the web for teaching and learning and can be accessed from any Internet connection in the world.
Remember, all LMS features can be implemented (filled with content) by You in a few hours. If you don't use this opportunity and technology to create a competitive advantage, someone else will. Show your current employer that you are worth every penny. Varsita LMS package is very easy to install, use, then customize and the price is very reasonable.
The Main Features:
 Modern & Responsive Design of Varsita WP theme
5 HomePage Variations
LMS Plugin with:

Online Courses and Lessons
Teacher Profile Management
Events Management
Speaker Profile Management
LMS Dashboard with statistics

Built-in Media Player
Revolution Slider
BuddyPress support
WooCommerce support
Customizable & Visual Composer
Paypal Payment Gateway
One theme but in many variations
Because we know that each education business is different as well as customer expectations we prepared page variations, 5 Predefined HomePage Layouts.
Mobile Learning
Mobile view – also no problem, it allow learners to access courses in the LMS from their smartphones and tablet devices (Samsung, Lenovo, HTC, Apple). This helps facilitate anytime, anywhere learning for students, who prefer to use their mobile devices more than a computer to access the web.
Full Width Slider
Varsita WP theme comes with the stylish and easily customizable Revolution Slider. It is an all-purpose slide displaying solution that allows for showing almost any kind of content with highly customizable, transitions, effects and custom animations. Revolution Slider plugin makes it easy for your to create custom sliders by adding in options for just about everything.  Slider Revolution cannot only handle Youtube & Vimeo Videos perfectly but also your self-hosted HTML5 Video. Due to its visual oriented interface and countless options, Slider Revolution is suited for both beginners and advanced users.
Powerful LMS Dashboard
LMS plugin have powerful dashboard with many useful information's (statistics) on it:
Total sale
Total orders
Pending Orders
Number of Courses, Teachers, Lessons
Number of Events
Month chart
Themeum LMS is all about usability. From the very beginning, it was designed with end-users in mind, so its real power comes from its simplicity. Discover how we can help you build a learning community.
Course Categories
Each course has its own category. Themeum LMS Plugin supports the unlimited number of categories. Create unlimited online courses with reach content lessons.
Online Lessons – Content Management
Our LMS for WordPress allows you to add lessons to your learning courses. Lessons contain the actual learning material. Teachers (Instructors) can easily upload different kinds of online content to the LMS, such as articles, PDFs, presentations, videos, SlideShare files, images, audio files, live web content, and much more to a centralized location. They can also easily manage and update the existing content. Option to define lesson courses as 'Free' or 'Paid' wit selected price.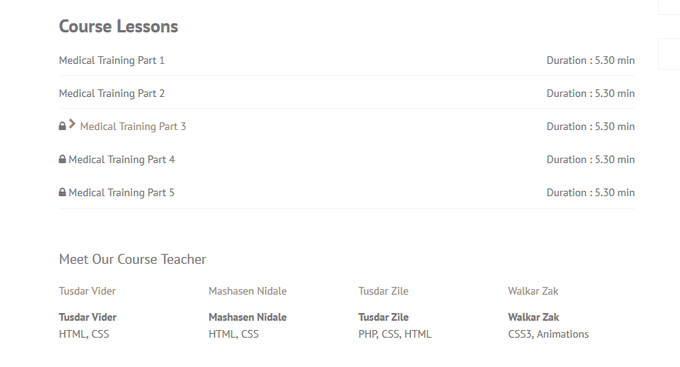 Teacher List
All teachers from LMS plugin also have an own profile with basic information fields about them:
Name field
Photography of teacher
Website URL and contact e-mail
Teacher Experience
Assigned Courses
Social links
 Events Management
Quickly and easily create and manage events with ease. Add a description, select start and end date, choose speakers, select location of your events, add the price for entrance into. The main features:
Unlimited number of events
Categories and Tags
Separate fields for date and time
Google Maps for locations
Speakers assigned to current event
Events Speakers
All speakers for events also have an own profile with basic information fields about them:
Name field
Photo of speaker
Website URL and contact e-mail
Course Orders
This option allows you check the last orders and payments from students. The main features:
Course Name with ID
User ID
Final price for course
Payment ID
Order status
Comments for orders
PayPal integration
It provides a secure connection between your website and your student account. LMS accepting credit cards, debit cards, bank accounts, and of course PayPal accounts. It allows you easily sale access to your online courses (24h / 7 days).
We have chosen PayPal because it is one of the most popular online payment processors in the world. The main features includes:
Setup is fast and easy
Mobile (iPhone/Android) transfers
100% protection against unauthorized payments
Theme Options
Varsita comes with advanced theme options which allow you to customize many aspects of the appearance of University/School website. Theme options includes:
Header and Sub Header
Logo & Favicon
Layout & Styling
Slider
Typography
Blog & Portfolio
Coming Soon Page
Footer
Woocommerce Support
Varsita was built with e-commerce in mind, so it would be an ideal tool for selling University clothing, books, gifts and souvenirs in your school online store. However, you can use this plugin for any kind of products (also virtual goods).
The main features:
Products and categories
Pricing options
List of orders
Sale reports
Discount coupons
Shipping options