The wait is over! We've just released your long-awaited WP Page Builder stable version. Since the initial beta release, it took us a month long journey of continuous effort, extensive cross-checking, and revisions to be able to present you this stable version. And yes, it's FREE!
In this span of time, we tried every possible way to make WP Page Builder a tool that is singularly fit to build any website you want. To be able to do so, we added new features, fixed issues, and designed stylish templates & blocks. Now we can finally say, this is the WordPress page building tool that we promised you in the first place.
Before exploring today's update, let's have a quick overview of WP Page Builder in the video below.
For the most part, this is just not only an announcement that calls it stable, but also an update that introduces two brand new addons, third party block & layout support, and fixes to some known issues.
Let's see what's new in this (stable) release.
Form addon
Carousel addon
Third-party block support
Third-party layout support
Powerful NEW addons
WP Page Builder brings two brand new addons with cutting-edge functionalities. We would love to tell you more about them.
Form addon
The WP Page Builder Form addon lets you design and create forms effortlessly. Crafting stylish forms on your web pages is as simple as setting up any other addons. Now you have the best way to style your forms as you desire.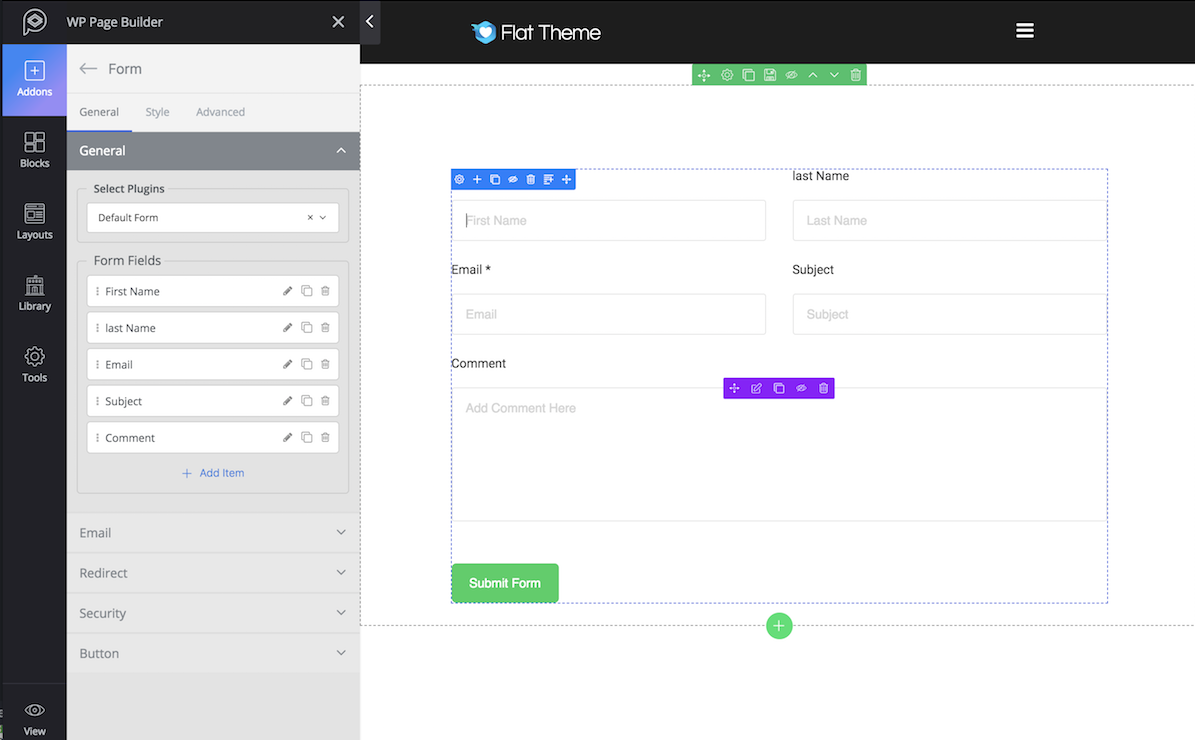 Independant: The new Form addon requires no third-party plugins to set up functional forms. The addon itself is capable of setting up any kind of forms on your web page per your needs.
reCAPTCHA: Setting up reCAPTCHA with your form has been easier than ever before. Enable and disable reCAPTCHA with just a simple click. You can use both simple reCAPTCHA and Google reCAPTCHA alternatively with this powerful form addon.
Versatility: If you ever need to use any form builder plugin with it, our Form addon can handle that as well.
Highly customizable: Add any number and type of form fields and style them as the way you want them to look.
Carousel addon
Surprised? Of course you should be. It's hard to find an advanced addon like Carousel in a free WordPress page builder plugin. With this stable release of WP Page Builder, we introduce the Carousel addon. So, now you can have stunning hero sliders on your web pages without paying for any addon!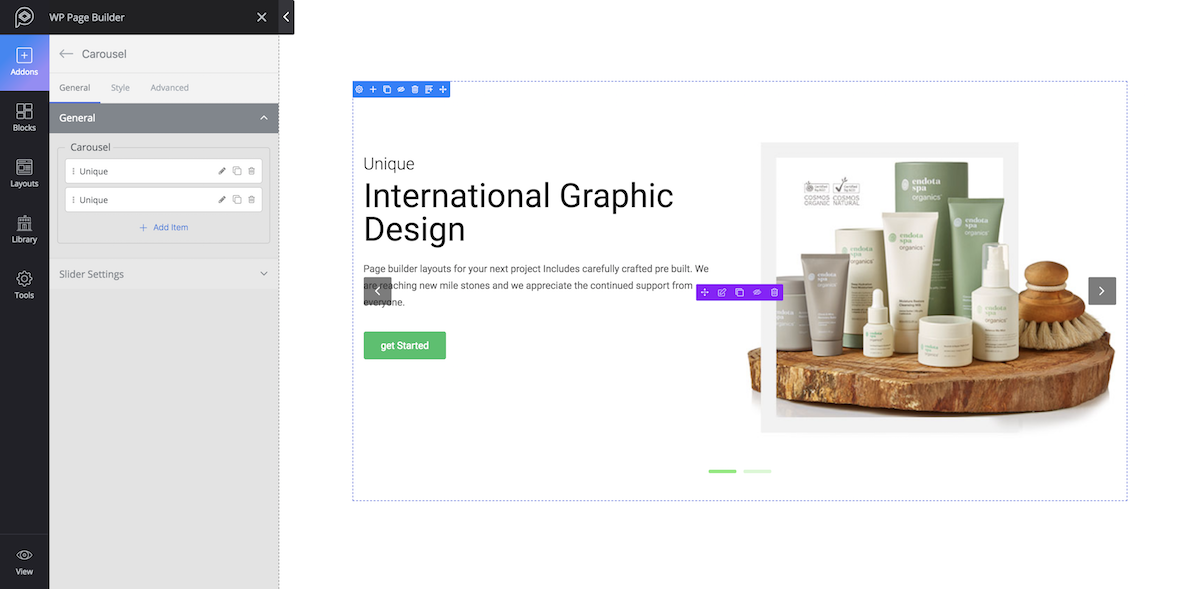 Multiple elements: Apart from the general images and texts, you can have buttons and other elements on the slides.
Rich style options: Customize the slider's look, place different elements, and determine their position on the slider. Ready your slides easily in the quickest possible time.
Click here to discover all WP Page Builder features at a glance.
Third-party block and layout support
With today's stable release, developers or anybody who wishes to use their own elements (blocks and page layouts) can do that thanks to the third-party block & layout support added to WP Page Builder.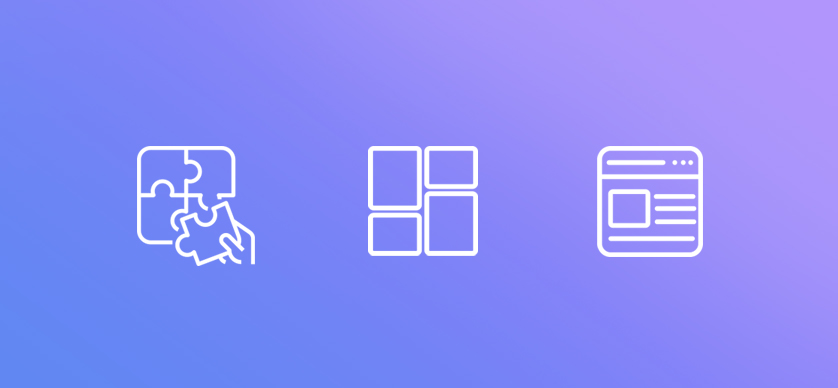 Third-party blocks
Want to use blocks of your own choice beyond WP Page Builder's built-in blocks? Anyone like you who wishes to add additional blocks, they can do so with this stable release. WP Page Builder support third party blocks. So, anyone can design a block for you and provide you a plugin to implement it. You can get that block by installing and activating that plugin.
Not to confuse with the library system. You know, the library system lets you create blocks on your site and save them to use later. You need to use the third-party blocks when you want to use a block that was designed for distribution. The end result is almost the same- you get repeatedly usable sections for your site.
Third-party layouts
Like the third-party blocks, you can also get additional page layouts in WP Page Builder's Layouts section. Third-party developers can offer their page layouts in the similar way to the third-party blocks. For this, they can simply provide you a plugin, and you get the third-party page layouts just by installing and activating that plugin on your site. Making web pages with your desired page layouts is now a reality with WP Page Builder's third-party layout support.
Apart from all new goodies above, this stable release also fixes some known bugs. Let's take a look at these fixes at a glance.
Improvement: Repeated field-type parameter
Fix: Multiple media-type selection issue
Fix: Pricing Table addon configuration issue
Fix: Color2 field-type conflict issue
Fix: Dimension field-type unit issue
Fix: Image addon configuration issue
Fix: Border field-type stability issue
So, what are you waiting for? Get WP Page Builder now for FREE, and start building beautiful website immediately.