Mega menus are very effective to showcase a lot of information in a simple to understand manner. Popular websites like BuzzFeed, Staples, Walmart, Amazon, etc. are using mega menus on their website.
Mega menus are an important part of improving navigation throughout a website. They help you-
Provide a better navigational choice through structured layout, typography & icons
Make the most important information of your site visible at once
Group similar type of content together for your users
It helps you organize your site to the highest extent
WP Mega Menu is one of the easiest ways to create your own mega menu for WordPress. Currently, it is being used by more than 20,000 WordPress users worldwide. And to enable you to make even better mega menus, today we are introducing the latest version of WP Mega Menu. It comes with multiple new widgets, improved functionality & features.
Below is the list of new features that you get with the latest release. So let's see what you get. Please note that the features mentioned below are for both the free and pro version release. And if you want to get hands-on experience, here is the demo we made for you.
Display WooCommerce Cart in the Menu
From now on, your users will be able to add products directly to the cart. To enable this, you need to have WooCommerce installed & activated in your site beforehand. After that go to the Woo Cart button in the WP Mega Menu theme configuration settings. Enable Woo Cart for your WP Mega Menu theme and you are good to go.
Now, once your users add products to their cart, their WooCommerce cart will be automatically updated and show the products & product count right in the menu bar.
New WooCommerce Products List Widget
Now you can also take advantage of the new widget called WPMM Woo Product Pro. You will be able to show your WooCommerce products with advanced viewing options in mega menus created with WP Mega Menu.
You can define the column number, the number of products that will be shown, enable to show the star ratings and more once you add the widget.
New Product Category Widget
There is now a new widget called WPMM Product Category in the widget section of the WP Mega Menu. Using this new widget you will now be able to showcase the product category from your WooCommerce store in the mega menu. Just drag & drop the widget to your required location and add it.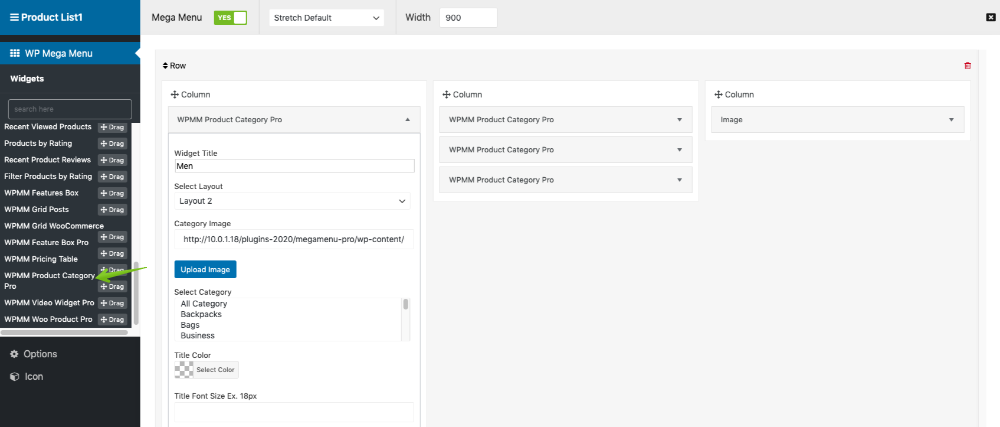 With the new widget, you can set the widget title, ordered by hierarchy (popular or latest products), select category of products that you want to show, the number of columns, enable/disable star rating, price text color, size, etc.
Signup/Login Options Directly on The Menu Bar
Let your users' signup/login directly from the mega menu created with the newly released WP Mega Menu. Now you won't need to redirect users to a different page just to make them signup or login to your site. To enable, simply go to the theme configuration settings in your WP Mega Menu and navigate to the new Login/Signup option in the theme settings. Enable the Login/Signup option and you are all set. There are also customization options for the login/signup button, background image, etc.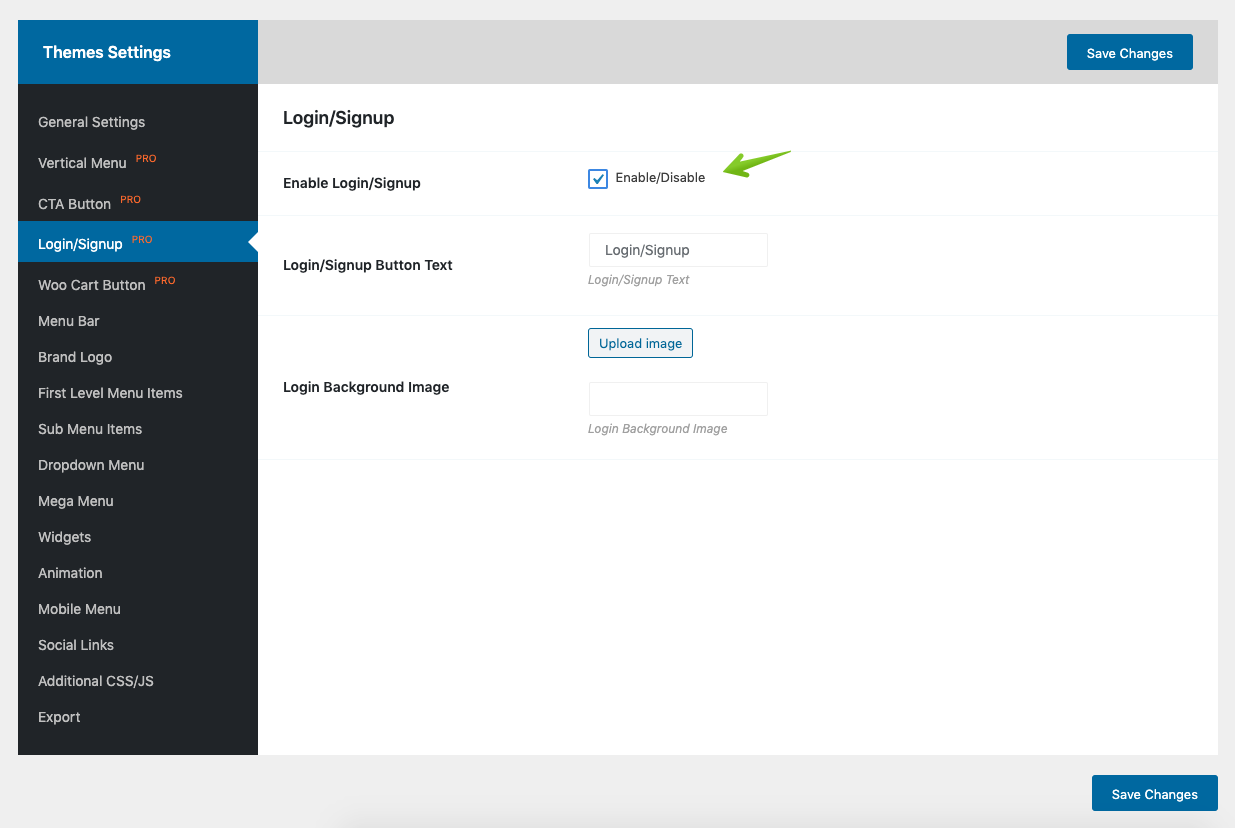 After you have set everything, your users will now be able to log in and even sign up directly from the mega menu.
New Pricing Table Widget
People's times are becoming more precious. So showing a pricing table right inside the submenu is the next logical step. And to make it easier for our users to do that, we added a new widget called WPMM Pricing Table. There are also different layouts that you can take advantage of for your pricing table.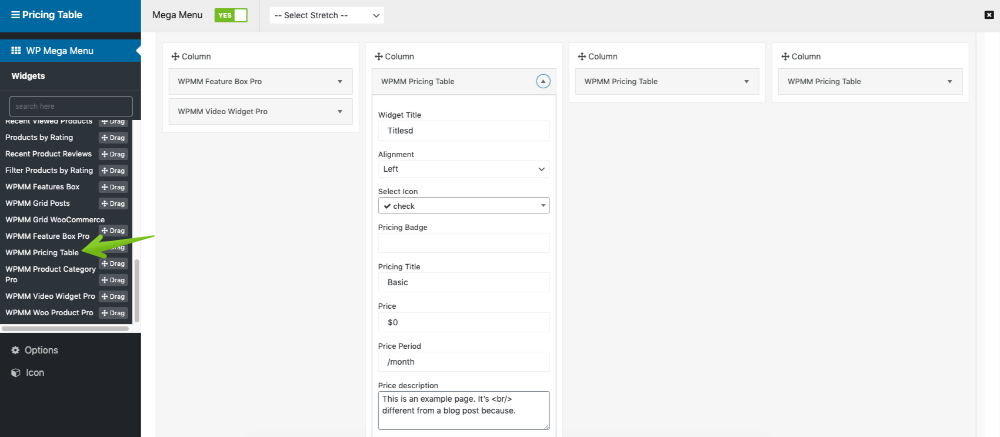 Once you add the widget, there are multiple configuration options you can choose to define each attribute of the pricing table. Select the layout design, define alignment, select icon, set pricing badge text, pricing title, price, button text, button color and more from the customization options.
New Dedicated Video Widget for WP Mega Menu
Previously, to add a video to your mega menu created with WP Mega Menu, you needed to rely on the default WordPress video widget which had its limitations. Many of our users requested that we make a dedicated WP Mega Menu video widget with advanced customization features.
And we are delighted to introduce the all-new WPMM Video Widget. With the new widget, you get more customization options for the videos that you add to your mega menu. You will be able to set the title, select the source of your video, specify your video ID, video URL, title font size, the color of the play button, etc.
You can learn more about the WP Mega Menu widgets from the documentation.
Custom Image Upload Option in the Submenu
With the latest release, we are delighted to introduce the new settings to add an image/icon to the submenu items. Once you navigate to the WP Mega Menu customization option in the Menu settings of WordPress, in the submenu options now you will see an image upload field. You can also configure the font color, font size, font weight, line height, padding, etc.
Once you add custom images to the submenu of your mega menu, just hit the save button. Now your frontend menu bar should look something like this.
Set Separate Design for Each Menu Item
With the new WP Mega Menu, you can now set different design attributes for each of the submenus that you create for a mega menu. Along with the advanced customizations before, you can now set font color, font size, font weight, line height, item border separator, padding, background and so on for each submenu section.
Single Menu Description Feature
Now you can set a single menu description for each menu that you create with WP Mega Menu. To use the feature, you need to enable the Description option from the Screen options found in the upper section in the WordPress menu customization settings.
Please note that this feature is not available for some specific themes, as they disable the Description option by default.
Full Changelog for Your Convenience
Here are the full changelog and the complete set of features for the new WP Mega Menu 1.3.4 (Pro & Free combined)
New: WPMM Woo Product Widget
New: WPMM Product Category Widget for WooCommerce
New: WPMM Pricing Table Widget
New: WPMM Video Widget
New: WPMM Woo Cart integration
New: Login/Signup options in menu
New: Single menu description (theme support required)
New: Single menu customization options in the theme settings
Update: WP Mega Menu search in full screen
Update: Custom image/icon upload option in a single menu
With today's release, WP Mega Menu Pro is more functional than ever before. The newly added features make it the top of the best mega menu builder plugins out there for WordPress. And we are working to bring even more features in the future.