Hello WP Crowdfunding ninjas! These days, crowdfunding or backer websites are in demand. With how the current global situation has been developing, proactive people around us are collecting funds for a communal matter. Be it for protective gear for healthcare professionals, food for the poor, or donations, these are all incredibly significant in the fight against COVID-19.
We wanted to do our part in this fight as well. As such, we've updated our WP Crowdfunding plugin for quick deployment. Bumping the version to 2.0.5 in the latest release. This update contains some important changes that future-proof the plugin for even more development.
All Shortcodes Have Been Converted to Gutenberg Blocks
We want our plugin to be ready for the future. And as such, we've created 9 new Gutenberg blocks that offer the same functionalities as our previous shortcodes did. However, they will be much more user friendly in the form of Gutenberg blocks. Adding these brand new blocks will make your crowdfunding site-building experience so much easier. You also get access to easy customization options with the Gutenberg editor.
Working with a Gutenberg toolkit like Qubely will also allow you to use its blocks to create a much more rich experience for your visitors.
So, let's take a look at all of the brand new blocks added to WP Crowdfunding in this update:
Campaign Search
Donation
Registration
Dashboard
Campaign Submission
Campaign Box
Single Campaign
Popular Campaign
Project Listing
If you want to learn more about each of these blocks & their specific settings, you can check out the full documentation of the newly introduced Gutenberg blocks in WP Crowdfunding.
Finding the New WP Crowdfunding Gutenberg Blocks
To add these newly created WP Crowdfunding blocks, at first you need to have the Gutenberg editor enabled; make sure you're not using the classic editor. After that, start editing a new or existing page or post.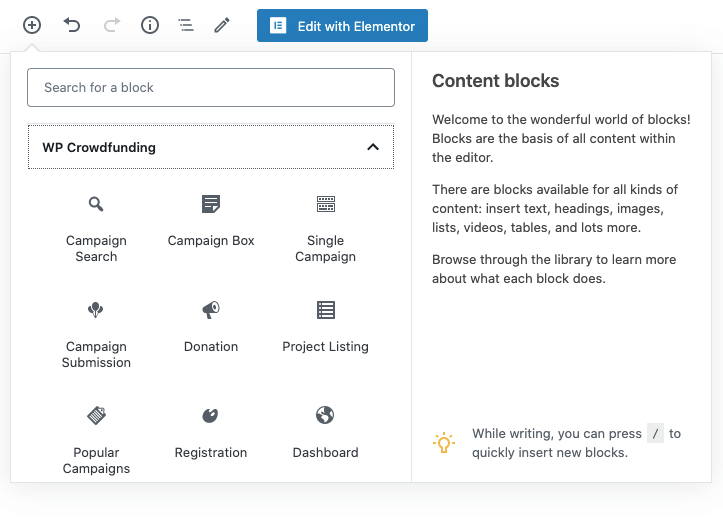 To add a new block, click on the (+) icon on the top-left. Then search for "WP Crowdfunding" and you'll see all of the new blocks that have been added to your favorite crowdfunding plugin.
Wrapping Up
While creating WP Crowdfunding, we wanted to spread some positivity in the community. By enabling all of our users to create sites that can handle kind donations for a good cause, we believe we play a part in this struggle as well. While we are privileged enough to work and earn a living from home, some aren't, and we must not forsake them. So, if you also have a positive mindset and want to do something good for the world, go ahead and use WP Crowdfunding to create your next donation site and help out those in need!