We want to make sure that everybody gets the latest technology when using our products. Keeping our commitment, today we are introducing full-fledged Gutenberg support for our Edumax theme users.
We are really proud of this release. As our team is working hard to bring you the best WordPress site-building experience with our themes. Gutenberg is already an integral part of the core WordPress. With this release, we are making sure that Edumax is future proof for our users.
From now on Edumax will support all the features Gutenberg is well known for, such as:
Drag & drop editing experience
Easy copy, paste & formatting options
Quick embedding features
Easily manageable color palettes
Set font style specific to each block
Effortlessly edit your pages/posts
Ability to add advanced blocks
And more
Along with the Gutenberg support, we've also added a few additional features to Edumax. In the following paragraphs, you will learn the details about the new update.
New Gutenberg Based Demo Option Built with Qubely
We've added a new Qubeley-powered demo option to the Edumax theme. The new demo contents will be using Qubely blocks and can be edited in the Gutenberg editor. Those who are using WP Page Builder with Edumax right now (or even in the future), you will be able to edit the content with the page builder plugin as you could before.
Note: Please deactivate WP Page Builder if you prefer to import the Qubely-built demo version.

Since the whole WordPress industry is working seriously with Gutenberg, that's why we're offering a Gutenberg based version of Edumax built with Qubely.
3 New Dedicated Gutenberg Blocks for Edumax
Also in this update, the Edumax Core plugin (included with the theme), has been updated to v2.0.1 with many improvements. We are excited to introduce 3 new Gutenberg blocks to make your site-building process easier.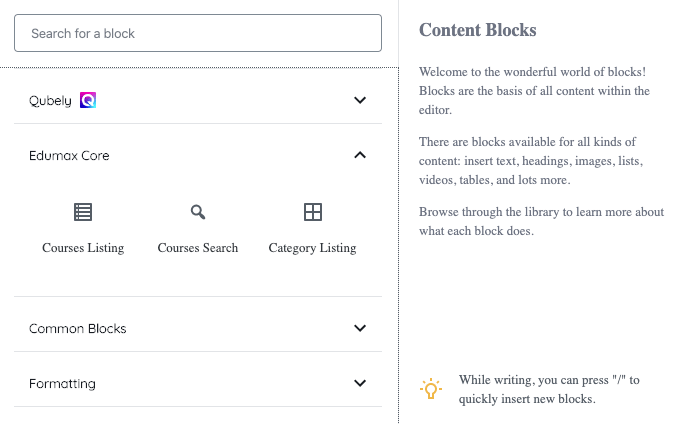 Now after installing the new Edumax Core plugin, when you go to a page/post you will find the new Blocks in the section called Edumax Core (in the Gutenberg editing interface).
The new blocks are:
Course Listing
Course Search
Category Listing
Find their details below.
Course Listing
This is the first block you will see in the Edumax Core block section. Add it to your post/page to show a list of your courses.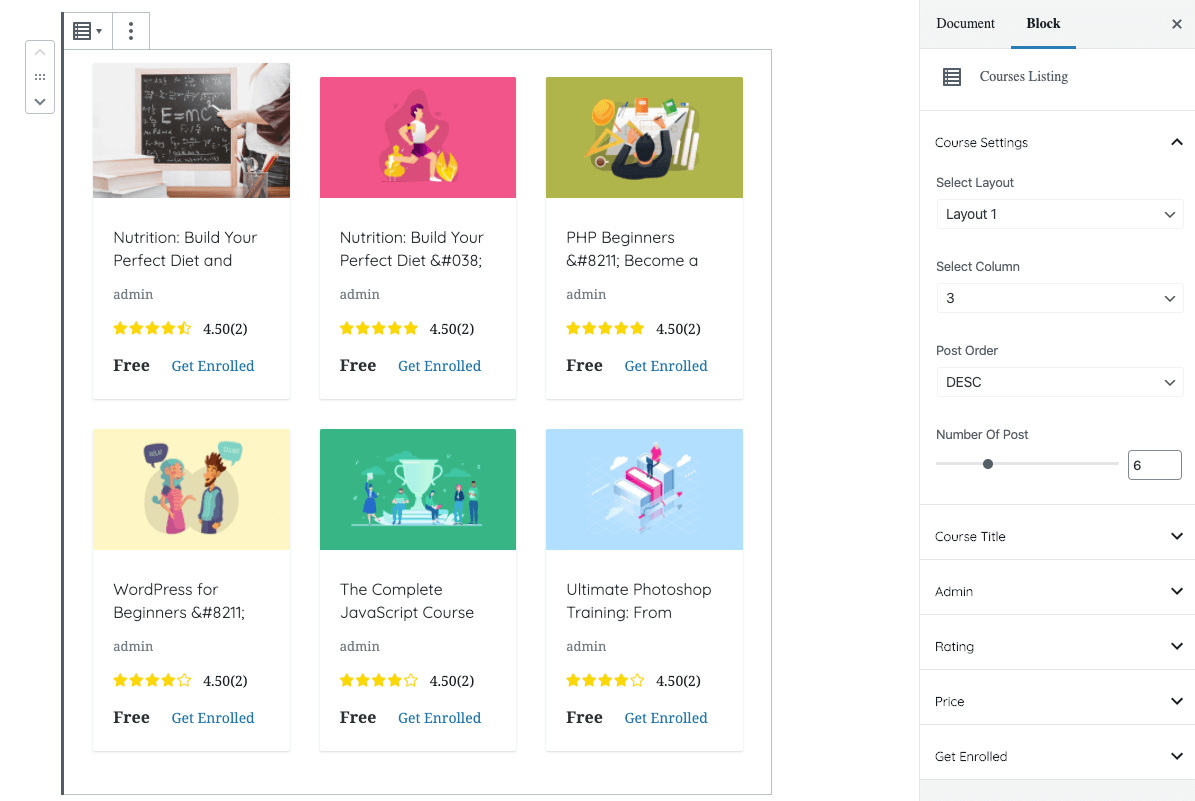 Once you add it to your page/post, you will be able to select a layout, the number of columns, enable/disable rating, set typography to course prices, and more.
Course Search
This is the second new block you will find in the Edumax Core section. It allows your users to search for a course.
In the block's settings, you will be able to customize your course search input field typography, border properties, background/input text color both for the normal and hover states, etc.
Category Listing
The third new block you will find is Category Listing. With this block, you will be able to show all the existing course categories on your LMS site. You can define the number of columns, select descending/ascending post order, set fonts, and more.
You can find more details about each of these blocks from this documentation.
Full Changelog of this Edumax Update
To make it easier for you to understand, we are laying out the full changelog of today's Edumax update here.
Edumax Theme (v2.0.1)
Full Gutenberg support (complete Gutenberg demo included)
3 dedicated custom Gutenberg blocks
New Qubely demo content option
Edumax Core (v2.0.1)
3 Gutenberg blocks with customization capability
Edumax Demo Importer (v1.0.2)
Qubely demo content import alongside the previous options
Conclusion
We are updating our products so that our users are always equipped with the latest technologies. Please tell us what are your thoughts on the new update of Edumax and how you think we can improve it even more.
Share your thoughts in the comments section below. Hope to hear from you soon.