Skillate was built from the ground up to enable the LMS platform owners to create a scalable marketplace. As Skillate is becoming more popular, we are trying to branch out the feature sets of this LMS theme. We exist to empower the instructors as well as who wants to showcase a specific course that they are proud of. And for that, we are excited to bring features that cater to the single mega-course showcasing option.
Nowadays, many instructors spread their passion for knowledge sharing in the online world especially in popular eLearning sites. But there are always catches. Some of the most popular platforms have high fees, as well as not having full control can frustrate an instructor. That's why many instructors are moving away from them and creating their own web presence to showcase their courses on their own site. With the latest Skillate update, we want to provide an easy solution to that.
Benefits of a Single Course Focused Homepage for an Instructor
There are many benefits for instructors for having a single course focused homepage. The single course focused homepage is built with multiple interactive benefits for individual courses and their instructors. Unlike the multi-course sites, they can help show off the single course attributes much better.
As an instructor, you will be able to showcase the very best parts of your specific single course. If put on a list you will be able to:
Showcase the benefits of your single course to your visitors
You can add the course materials for a quick overview
Use a video to visually attract your visitors to enroll in the course
Add a short introduction of yourself and why visitors should purchase
Use multiple CTAs to urge visitors to make their decision
And many more
Meet 'Expert', Single Course Homepage with Qubely Blocks Support
Please welcome the brand new single course homepage 'Expert' in Skillate. It's designed with industry-standard feature sets. We've built the single course homepage from scratch by adding the best possible options for the instructors out there. It has comprehensive and modern ways to showcase your talent and how the course will help the people who enroll.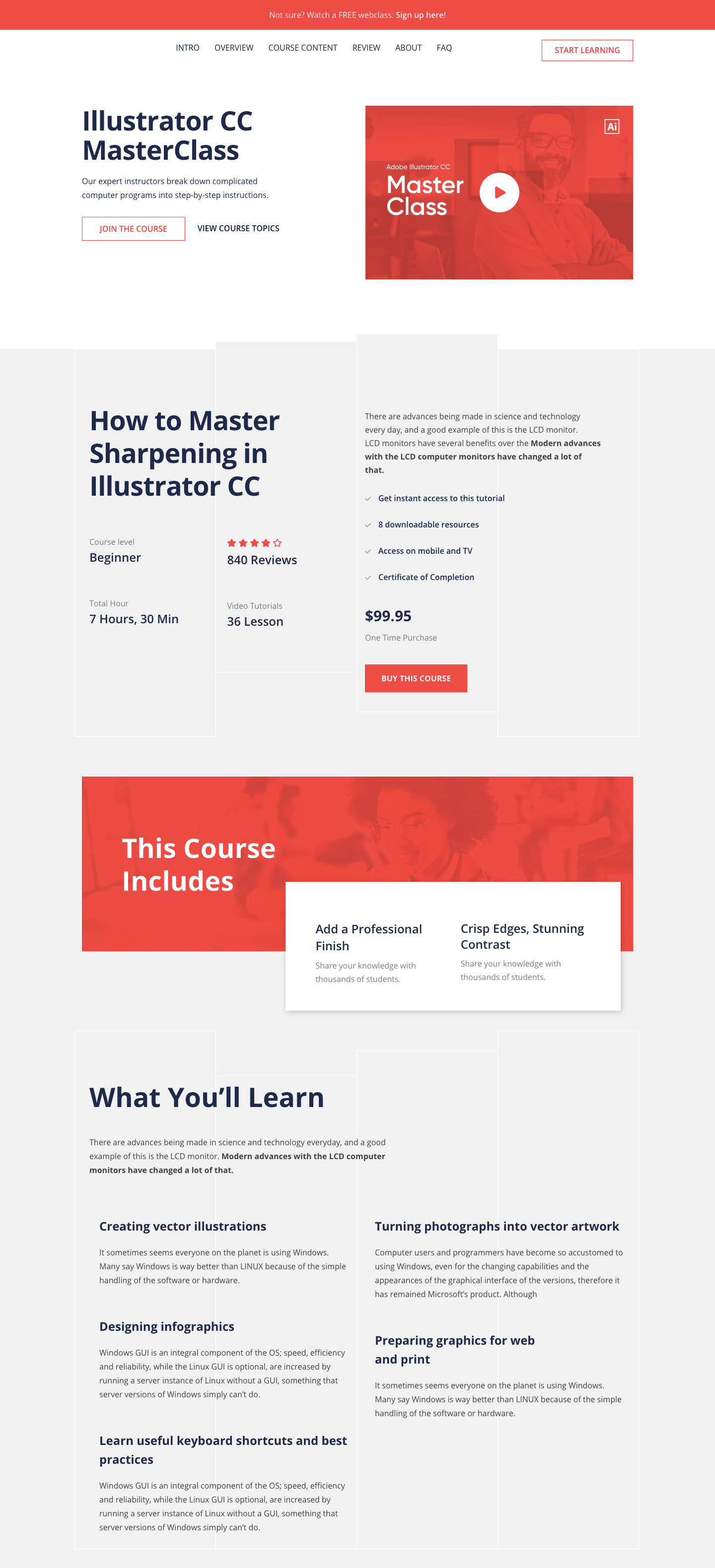 On top of that, we are offering full Gutenberg support for the single course homepage. You can create a complete single course homepage with Gutenberg thanks to Qubely blocks. With all options available in the Qubely block settings, you can customize your single course homepage just as you want.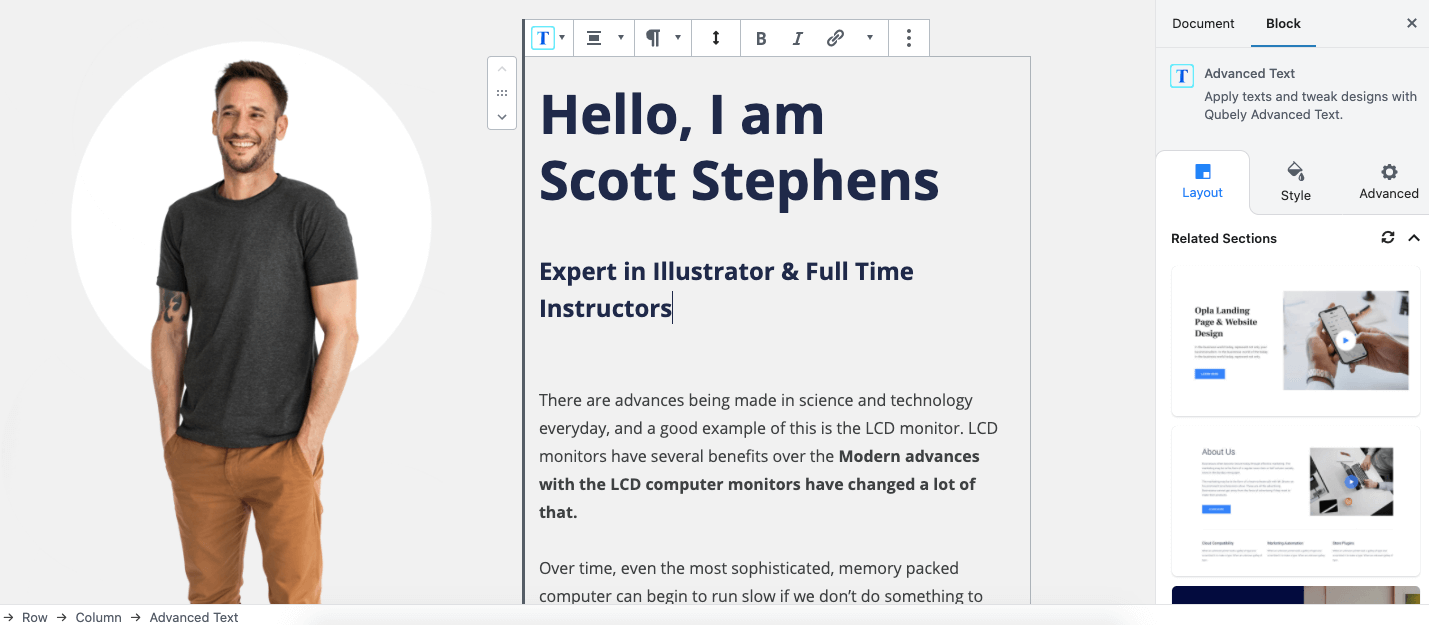 As you can see, in a demo of a single course homepage for instructors, the Advanced Text block found in Qubely has been used to create a specific section of the page. While you go through all the sections of the page, you will find other Qubely blocks as well. So you can be sure that you will be able to customize it to suit any of your needs.
? We also made a demo to help you understand the single course focused homepage. Click here to view the demo for the Home Expert page.
Note: You will find the single course homepage mentioned above when you import the Skillate demo content. Please keep in mind that the demo content is for test purposes only.
Industry-standard Sections that You Get with the New Homepage
Below is a list of all the sections that you get with the new single course homepage. All of them are fully customizable and you can easily modify them to suit your needs.
Introduction: Course introduction with video to better showcase your offerings.
Course Details: Show all the details such as reviews, total hours, course material count, price, etc. Also, encourage your visitors to buy using the CTA button.
Course Includes: Display a short description of what your course will offer.
Benefits for Your Students: Make a list, show your visitors what your course offers to them, and motivate them to purchase.
Benefits of Buying the Course: Tell the visitors the benefits of taking your course. Doing so will incredibly boost the chance of a conversion.
Collect Subscribers to Send Short Tutorials for Engagement: Use MailChimp or another compatible email service to collect subscriber emails. Later, you can send newsletters and make them interested in buying your course. There's a section for that!
Student Reviews: Show student reviews to earn the confidence of new participants. On average, reviews produce an 18% uplift in sales.
Short Introduction of the Instructor: A short summary of the instructor with a large banner showcasing the advantages of having him/her as an instructor.
CTA Button: A short description of the course benefits with another CTA button to increase the conversion rate.
FAQ: Show a list of frequently asked questions along with proper answers so that there would be no confusion among your students before the purchase.
Full Changelog of Skillate 1.0.4
Along with introducing a separate single course homepage for instructors and also offering Gutenberg support for the page using Qubely, there are many new options and fixes in the latest release of Skillate as well.
For your convenience, we have added them to the list below.
New: Single course homepage built with Qubely on Gutenberg
New: MailChimp integration to collect newsletter subscribers
Fix: Single page free course "Enroll Now" issue
Fix: Error on the category page if WooCommerce was missing
Fix: Filter panel collapse issue in mobile view
Fix: Login/Register modal string translate issue
Fix: Search option in header section not visible issue for certain pages
Fix: Logo width option not working properly
Fix: Homepage category section responsive issue
Note: To learn more about the new MailChimp integration to collect email addresses of your subscribers, you can see this documentation.
Get Started with Skillate Today
We are improving Skillate with new features to keep pace with our growing customer base. New users help us grow together. If you ever wanted to try Skillate or are looking for a capable LMS marketplace theme with modern features, now would be a perfect time.
Also, don't forget to share what you think about the new update in the comments below.