Building websites on WordPress already has got into a new era with the release of WP Page Builder. The tool has received an incredible amount of positive feedback from the community. And today, as we promised earlier, here comes the WP Page Builder Pro. This will empower everyone to bring a world of aesthetics to their websites.
Ever since we released the stable version of WP Page Builder, people kept asking for a premium version. After having a hands-on experience with the free version, people's expectation is far too high. We know, meeting those expectations is never easy. This is why, we never stopped working to enhance WP Page Builder. Today's Pro release is a result of our continuous effort.
As a part of that, in the very first release of WP Page Builder Pro, the tool comes with 8 ready-to-use layout bundles. Now, building professional websites with eye-catching look is at your fingertips, just a click away! Let's see what this Pro version brings for you.
15 premium Layout Bundles with 80+ page layouts
WP Page Builder Pro comes with a diverse categories of professional quality layout packs. We call them 'Layout Bundles'. Each bundle consists several ready-made page layouts that you can apply to your website in a single click. Today we are releasing 15 premium Layout Bundles having a total of 83 page layouts built in. You get all of them ready-to-use inside WP Page Builder Pro. More readymade layouts are coming in the near future.
As a pro user, you will enjoy the full potential of these stunningly designed layouts to get a faster ever WordPress site development experience. Unlike all other page builders available in the market today, WP Page Builder does not charge anything for addons. In the pro version, it is destined to provide the best quality layout designs ever to be found anywhere else.
The 15 exclusive premium layout bundles are:
Electrician: A beautifully designed layout bundle for companies, agencies, and individuals providing electric services. The pack is full of all essential pages with the relevant content areas on each of them. The bundle includes the following page layouts.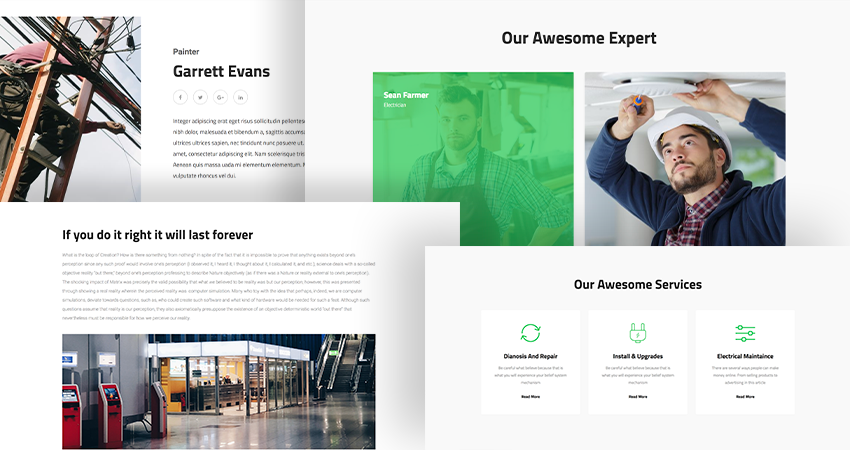 Layouts: About Us, Service, Our Team, Expert Details, Latest Projects, Project Details, Contact.
Plumbers: Dedicatedly built for the plumbers. But you can also build carpenter, electrician, handyman, house cleaning, housekeeping, domestic cleaning & repair service websites easily with this layout collection. Currently there are the following 5 ready pages inside the Plumber template pack.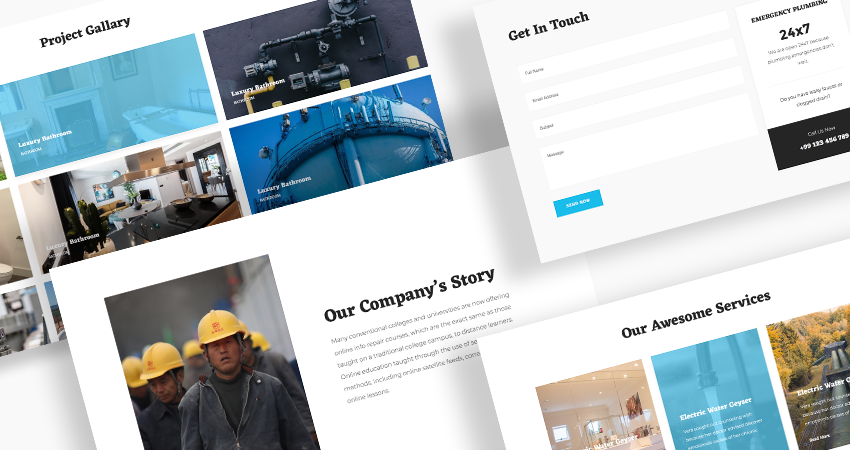 Layouts: About Us, Service, Team, Gallery, Contact.
Painter: A layout pack full of entrancing pages inside. Any company, agency or individual providing painting services can easily build their online presence with it. Alongside painting services, this layout bundle covers all other similar types of service based businesses. The pack comes with 6 readymade layouts inside.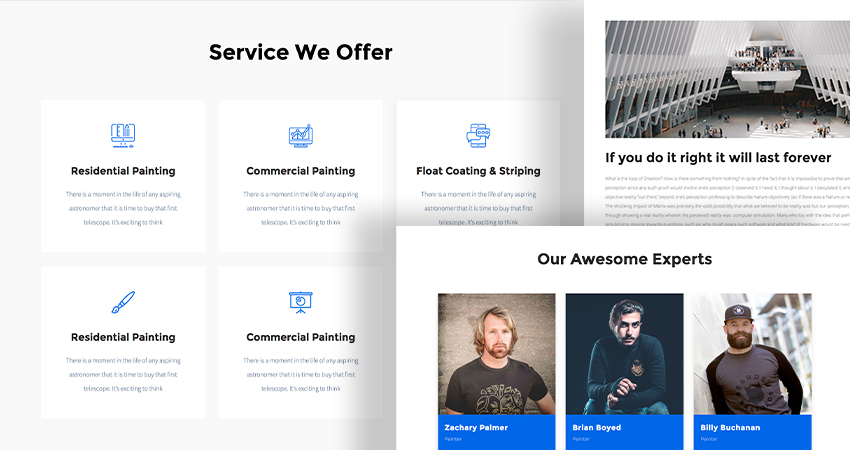 Layouts: About, Service, Service Details, Latest Projects, Our Team, Contact.
Restaurant: A restaurant and seafood layout pack, designed with care for an enticing and delicious restaurant presentation. It has all built-in food-inspired page layouts and practical elements. The pack is ideal for every restaurant site and food blog you can imagine.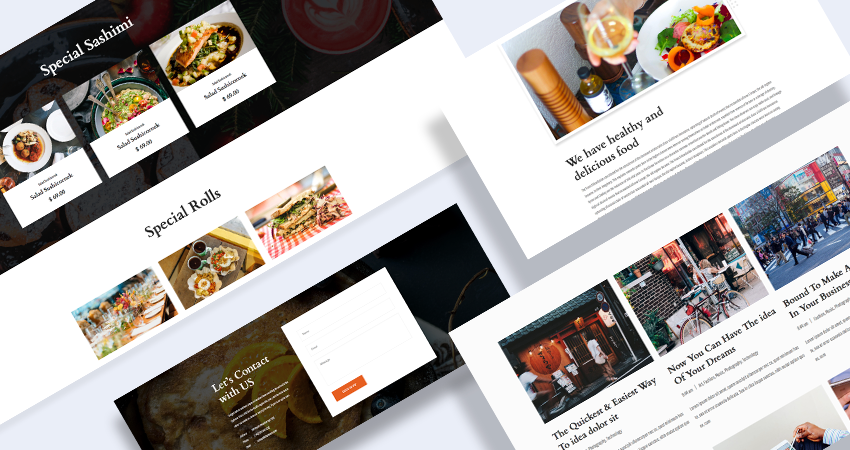 Layouts: About, Gallery, Menu, Blog, Team, Contact.
Lawfirm: A sleek and streamlined page layout pack fit for counsel, law firm, legal officer, adviser, solicitor, consultant, and such other related websites. The package is very niche-specific, and it promises to enhance all aspects of your law-related web presence.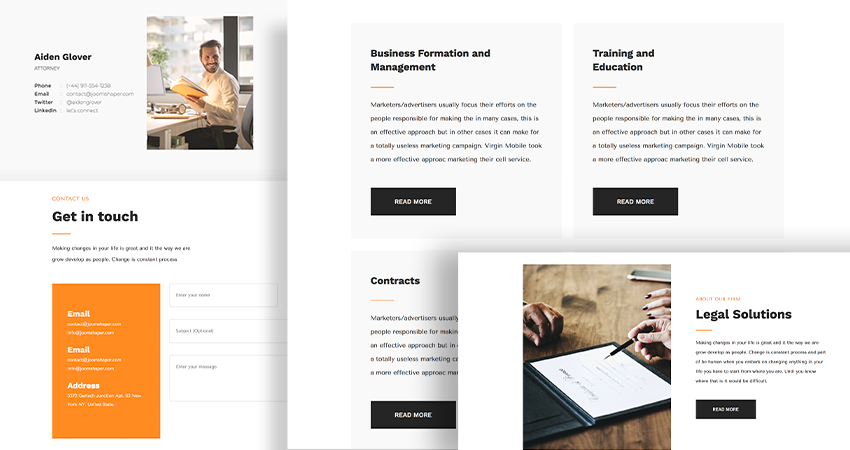 Layouts: About Us, Practice Details, Practice Area, Attorney Details, Attorneys, Contact.
Travel: Just think about the pages you need to launch a full-fledged travel site. Yes, we have all these pages in one bundle. Displaying attractive destinations and offering packages are so easy with the Travel layout bundle.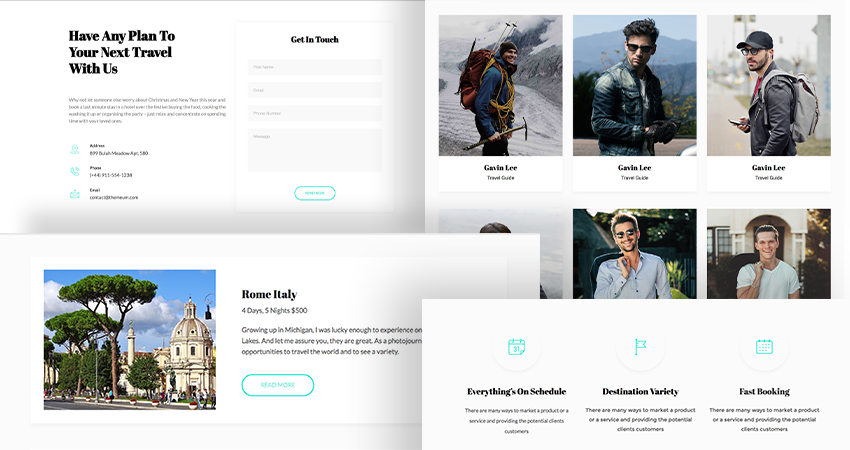 Layouts: About, Package, Offer, Guide, Destination, Contact
Digital Marketing: A stylish and uniquely designed page template pack best suited for any SEO, digital marketing, and branding service related business.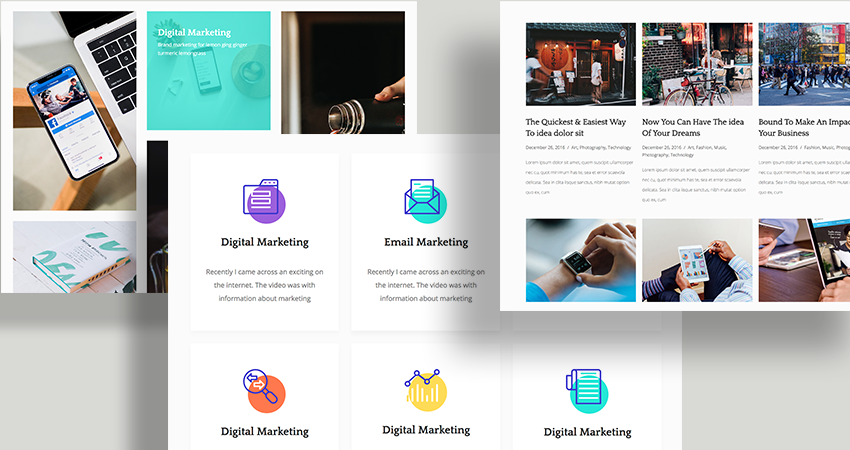 Layouts: About, Portfolio, Our Service, Blog, Team, Contact.
Coffee Shop: A coffee house and online coffee shop/store page layout pack. No matter the type of coffee shop or café you run/manage, this ready template pack has you covered. The bundle includes all the necessary pages so that you can sell coffee online.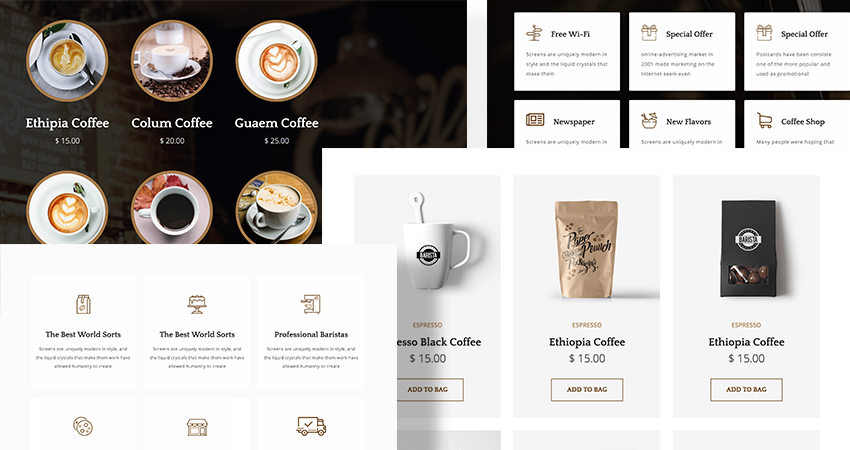 Layouts: About Us, What We Offer, Shop, Our Team, Our Process, Our Menu, Contact
Business: Looking for an engrossing web presence for your business? Here comes the perfect layout bundle for you. Create beautiful corporate, agency, or any other business site in minutes with these readymade page layouts.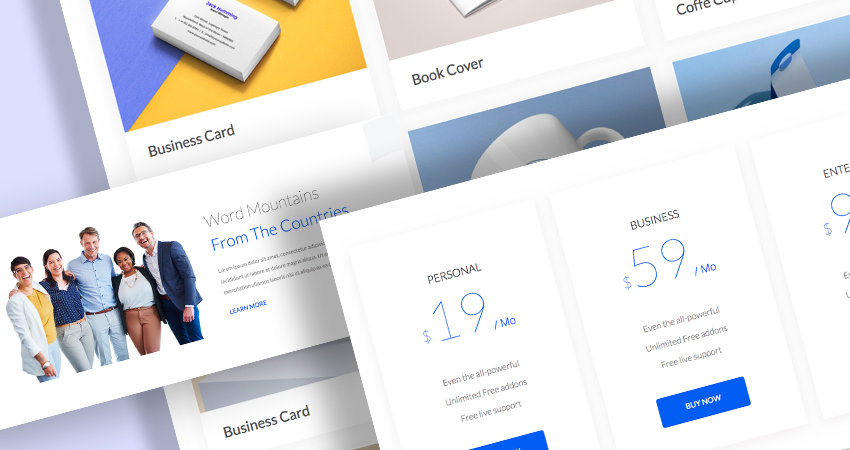 Layouts: Home, Portfolio, Pricing, Team, About.
As you already know, WP Page Builder is so versatile. Describing each and everything it brings in the premium version is quite impossible. Out of the 15 pro layout bundles we're releasing today, some of them are mentioned above with their visuals and preview links. Now let's take a glimpse at the other premium layout bundles you get in this pro version.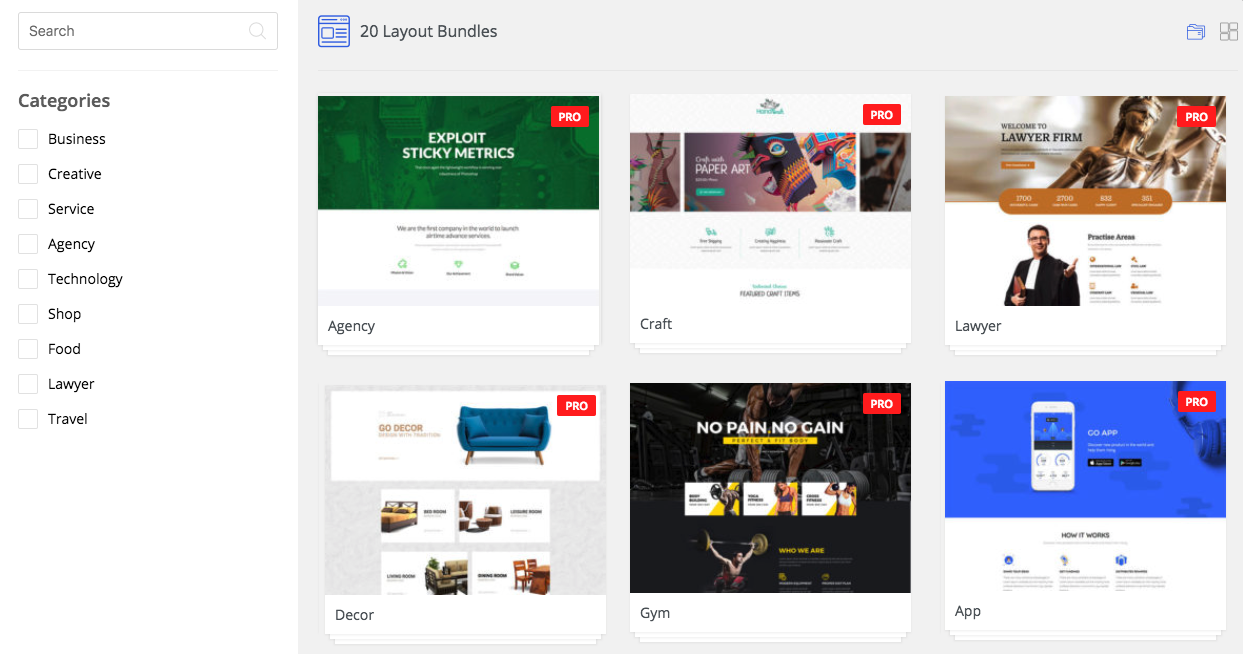 These are: GYM, Lawyer, Decor, Craft, Agency, App.
Note: We broke down the page layout packs so that you can navigate through all of them easily. Rest assured, they are not ordered because of the quality, designs, or any other defining factors. All of them are high-quality and professional-grade offerings.
Pricing
With all these gorgeously designed readymade layout bundles in WP Page Builder Pro, you might think it going to be too pricey. But you are dead wrong! The WP Page Builder Pro is available for you to purchase at $39 only.
Wrapping up
With this first ever Pro release, WP Page Builder is already the page building tool we all dreamt of. More layout bundles, ready design blocks, addons, and other goodies are on the way. Our designers and developers are working hard to bring you the best quality layout packs and all essential features in a single page builder. So, what are you waiting for? Get WP Page Builder Pro now!