The emergence and growing popularity of online learning websites like Udemy, Khan Academy, and Coursera indicate that modern-day learning is no longer confined to classrooms. Online learning platforms are becoming increasingly popular for students and professionals who are unable to attend classroom sessions at a particular geographical location.
If you're running an e-learning website, you know how the popular content management system, WordPress, can be easily used to design and develop a complete online learning store with a variety of courses. In fact, you can use the recently launched Tutor LMS plugin designed for WordPress websites to create an entire E-learning website easily. If you are already running an online E-learning or training website designed using the Tutor LMS WordPress plugin, you have made an excellent choice.
However, it's essential to know that while a great-looking and easy to use learning portal is good for garnering user registrations, it also needs to be up and running 24×7 without any downtime. Online students rely on the round the clock availability of data such as the courses offered, the online tutorials, learning videos, course instruction, course reviews, and other such valuable information. You can avoid the consequences of losing website data through periodic backups of your website and database files. Website backups ensure that even if your website crashes temporarily and you lose its data, the backup data can quickly restore your website back to normal.
What is a Real-Time Backup and Why is it Necessary for Learning Portals?
Well typically, a regular website backup can be either on-demand or fixed at regular intervals (for example, every day, or once every week or fortnight). On the other hand, a real-time backup is conducted on a real-time basis, meaning whenever there is any change in the website data. For example, when an online student signs up for an E-learning course and makes an online payment, all data related to this transaction are stored in the database system. Moreover, a backup copy of the data is added to the backup system.
Generally, real-time backups are only recommended for retail E-commerce websites where there are simultaneous transactions or data changes happening practically every minute or hour. However, online learning portals also need real-time backups because of the constant changes and also because this data must be available round the clock to online students logging in from different time zones and locations.
Regular backups cannot guarantee this level of 24×7 data availability and security as they are conducted at fixed times and are likely to miss out on the latest changes in the website data.
What are the Challenges with Real-Time Backups?
How easy (or hard) is it to take a backup of your website data? Luckily for you (as a website owner), there are many automated WordPress backup plugins available in the market. This has made the backup process very easy and user-friendly for even non-technical or novice WordPress users. Just like any other WordPress plugin, backup plugins are easy to install on your WordPress website and offer both regular and real-time backups.
However, there are a couple of challenges with real-time backups offered by most WordPress backup plugins.
With most WordPress backup tools, the entire backup process is executed on the client's server machine itself. This utilizes a major bandwidth of the client machine that can result in impacting its overall speed and performance.
Repeated backups by WordPress backup tools can consume your local storage space, thus reducing your free storage space for other applications.
Reconsidering if you want to opt for real-time backups because of these two challenges? Don't. Tools like the BlogVault WordPress backup tool not only provide real-time backups but also overcome both of these issues. How?
BlogVault uses the "incremental backup" technique for taking data backups. How does this primarily work? In simple words, the tool takes a backup of the entire website data the first time it is executed. For subsequent backups, the tool only syncs the website data (that has been changed) with the existing backup data instead of backing up the entire website data. This makes the backup process fast and also uses less of your available storage space.
By implementing the entire WordPress backup and restore process using their own dedicated BlogVault backup servers. This ensures that your website server's resources are not utilized in any backup-related activity.
The BlogVault tool is also easy to install and can be configured for taking a real-time backup in a few easy steps. In the next section, let's see how BlogVault's real-time backup feature can keep your Tutor LMS website data safe and secure.
Using BlogVault Real-Time Backups for Tutor LMS Websites
How can you keep your Tutor LMS-powered online learning platform safe with the real-time backup feature offered by BlogVault? Well, BlogVault provides a range of useful backup features and benefits that makes it the right choice for any online learning platform.
Here are a few of them:
Complete backup of website data, including website files, folders, installed plugins/themes, along with the core WordPress files. This is crucial during the website restore process such that your website does not miss out on any crucial files and data.
It does not miss out on any online transaction such as student registration and online payments through its real-time backups of data including website and database tables.
Creates multiple versions of backup data, any of which you can select to restore to your learning website.
Storage of backup data in multiple off-site locations that is a safer option to store your backup data.
Easy to install and execute real-time backups that make it ideal for any WordPress user without having to wait for technical assistance or help.
How easy is it to install and configure a real-time backup using BlogVault? Let's see that in the next section.
Installing BlogVault & Enabling Real-Time Backups
The BlogVault plugin can be easily installed and activated by any novice WordPress user. All you need to do is first sign-up with BlogVault and then install BlogVault on your Tutor LMS website. Once you activate the BlogVault plugin, it immediately takes a complete backup of your specified website data.
That's fine, but "how do I enable real-time backups in BlogVault?" Well, that's even more simple.
Sign-in to your BlogVault account using your user credentials.
From the "Site Listing" page, select the website that you want to configure for real-time backups. The screen would be similar to the screen shown below.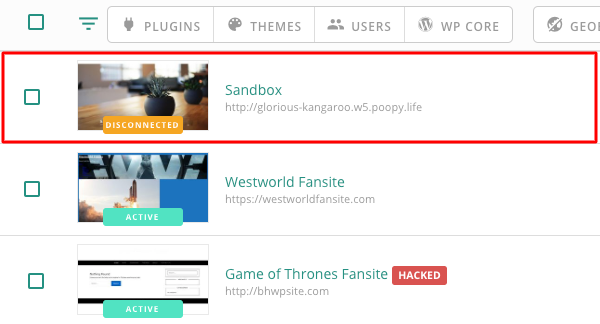 3. Next, navigate to the "Backup" section (that would be similar to this screen). The "Backups" section shows the current status of the backup files and tables for the specified website.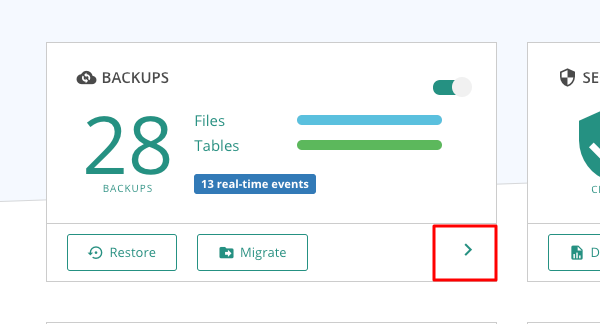 4. Click the right (">") arrow highlighted in the above screen. This will navigate you to the "Real-Time Updates" screen, as shown below.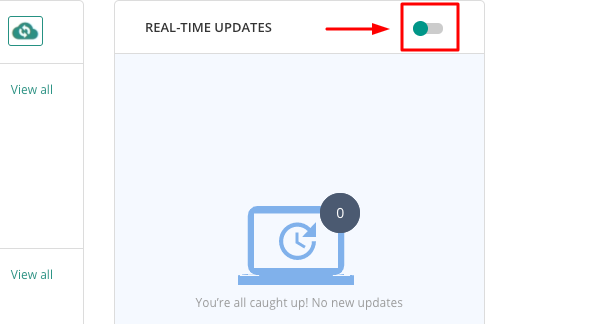 5. Toggle the "Real-Time Updates" button to enable real-time backups for this website.
This is all that you have to do! You can use this same toggle button if you want to disable real-time backups for your learning website.
Final Thoughts
Real-time backups should be an integral part of your backup strategy for your online learning platform. Only real-time backups can ensure that all your website data is safe and secure at any time during your operations. Additionally, a WordPress backup tool like BlogVault makes real-time backups easy to configure and execute without any advanced WordPress know-how. To learn more the backup service read our review on BlogVault.