Bring out the party hats because WordPress is turning 20!
For two decades straight, WordPress has empowered individuals, businesses, and communities worldwide. This powerhouse CMS has revolutionized how websites are created and managed. Not only that, but it has also been the core catalyst of our success!
On this special occasion, we'd like to reflect on the journey we've had alongside WordPress.
So, why not take a nostalgic trip down memory lane and raise a toast to WordPress in the spirit of celebration?
The Evolution of WordPress
WordPress, initially released in 2003 as a fork of b2/cafelog, has come a long way in its 20-year journey. Over the years, it has undergone significant developments and introduced game-changing features.
Here's a brief summary of its evolution:
2003: WordPress is born, starting as a fork of b2/cafelog.
2004: Themes and plugins are introduced, enhancing customization options.
2005: WordPress 1.5 expands beyond blogging with improved themes and static page support.
2007: Automatic upgrade feature simplifies updating to the latest WordPress versions.
2008: WordPress 2.5 focuses on improving the user interface and administration area.
2010: WordPress 3.0 brings custom post types and Multisite functionality.
2012: WordPress 3.4 introduces the theme customizer for real-time preview and customization.
2013: Automatic updates for minor releases improve security and stability.
2015: REST API integration enables developers to interact with and extend WordPress using standardized endpoints.
2018: Gutenberg block editor is introduced in WordPress 5.0, revolutionizing content creation.
2019: Site Health Check provides insights into site performance, and PHP compatibility becomes a priority.
2020 – Present: Full speed ahead with Full Site Editing (FSE) using the WordPress block editor, enabling complex layouts and design templates.
Our Journey With WordPress
Themeum's mission from the very beginning was to empower individuals and businesses to create their presence on the web. And what better partner to team up with than WordPress? Its continuous evolution has been the secret sauce that has fueled our passion and innovation.
Choosing WordPress as our platform has turned out to be the finest choice we could have made. As a WordPress-focused company, we've had the honor to contribute to its ecosystem. Our team has developed a range of premium WordPress themes and plugins, including our very own brainchild, Tutor LMS. And guess what? It has hit 70,000+ active installs recently! That calls for a separate celebration itself.
We also have some exciting news to share! Soon, we will be launching Droip, a true no-code website builder that will revolutionize how websites are designed and created in WordPress. Stay tuned for the launch date and meanwhile sign-up for the Droip Beta version to try it for yourself.
Our Contribution to WordCamp Events
We are happy to have sponsored a number of WordCamp events in addition to our commitment to WordPress products, including:
Supporting these events and interacting with the vibrant WordPress community has been an invaluable experience for us.
Celebrating WordPress's 20th Birthday at Our HQ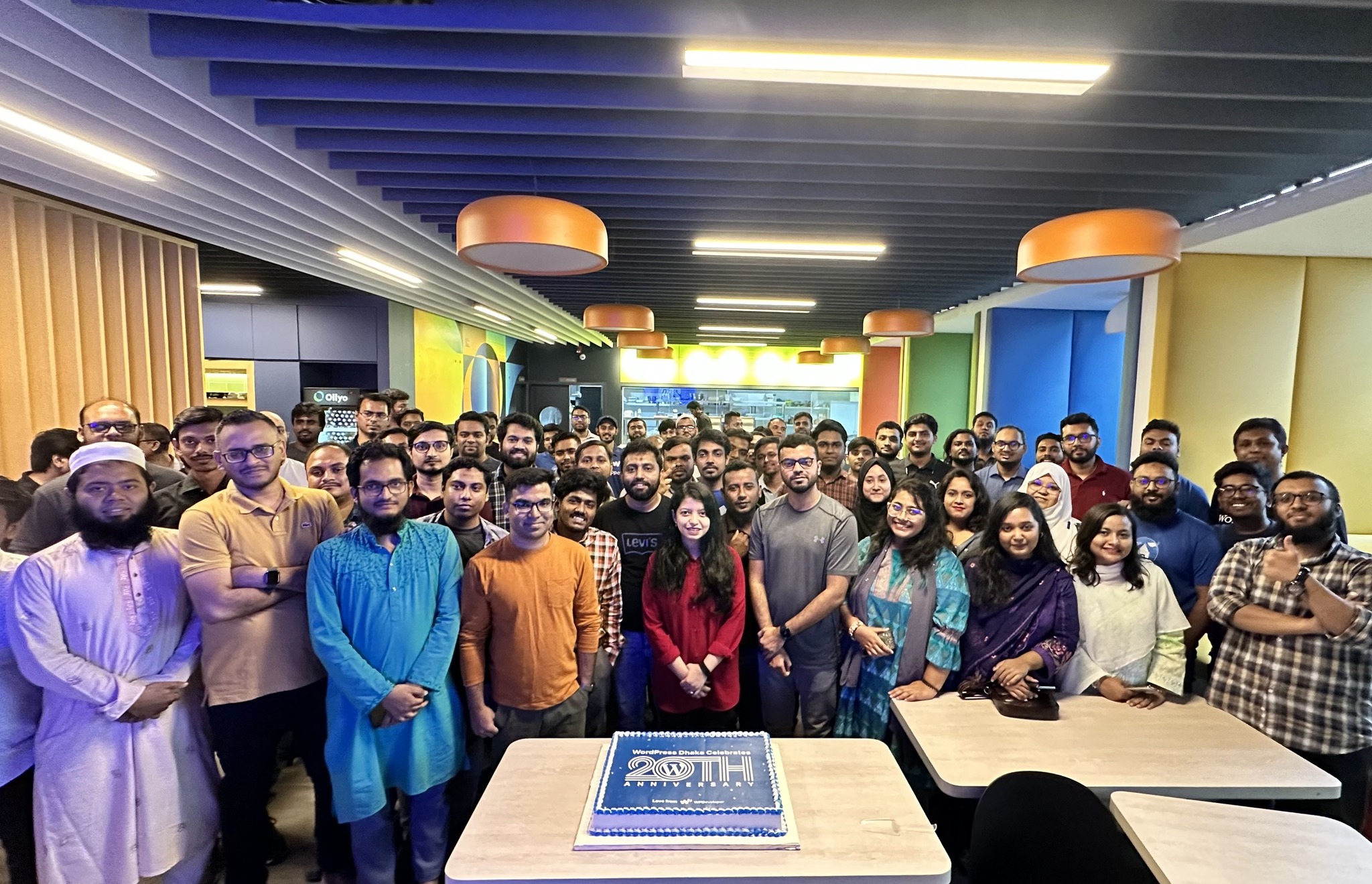 Our HQ is buzzing with excitement as the Dhaka WordPress Community gears up to celebrate WordPress's birthday!
People who love WordPress have come together to share their amazing experiences around WordPress. The meet-up is full of energy and oozing with fun as we're celebrating the special day with the lively community!
Our Heartfelt Gratitude to WordPress Community
No celebration would be complete without expressing our gratitude to the vibrant WordPress community.
We want to thank the core WordPress team and everyone who has dedicated their time to enriching the WordPress ecosystem.
Equally deserving of our gratitude are our users! We appreciate your trust in us. Your valuable feedback and encouraging success stories motivate us to push the limits of what is possible.
Wrapping Up
WordPress's 20th birthday is a shining example of the incredible power of open-source CMS and the endless possibilities of the digital world. Let's enjoy the influence WordPress has had on our lives and the web as we mark this significant occasion.
Happy 20th birthday, WordPress! Cheers to many more years of innovation and growth.